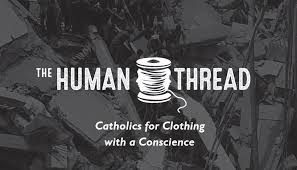 The horrible Rana Plaza tragedy in Bangladesh threw a spotlight on labor conditions in the world's garment factories. More than 1100 workers were killed when the building full of tenement factories collapsed in 2013, but unsafe working conditions are hardly the only hazard these workers face. Perhaps no other modern industry is so closely associated with poverty wages and child labor. In the wake of the tragedy, Pope Francis condemned the "slave labor" conditions that obtained there and called on people of conscience to take action. A group of Catholic activists in Wisconsin are taking up the challenge with The Human Thread.
In the mid-twentieth century, cutting and assembling ready-to-wear clothing was one of the first industries shipped from the developed world to the global south to take advantage of lower wages. But the retailers and brands — not to mention the customers they covet — remain largely in Europe, North America and Japan. Companies and consumers here can take action for fair wages and workers' rights there.
How can you help? Currently the Human Thread is running a postcard campaign calling on Macy's and Kohl's to offer clothing produced under fair working conditions, giving consumers a chance to choose "no sweat" garments. If you are seeking "clothing with a conscience" you might also be interested in a report ranking clothing lines by their labor practices.
http://catholiclabor.org/wp-content/uploads/2015/10/CLN-logo_565x100.jpg
0
0
Clayton Sinyai
http://catholiclabor.org/wp-content/uploads/2015/10/CLN-logo_565x100.jpg
Clayton Sinyai
2016-10-31 17:06:38
2016-12-31 14:16:16
Catholic activists target Macy's, Kohl's on sweatshop garments