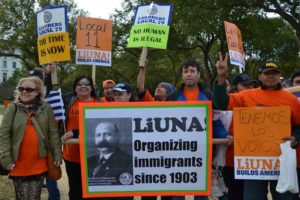 After a year marked by ugly campaign rhetoric directed at migrants, the US Conference of Catholic Bishops and the AFL-CIO strongly reaffirmed their defense of immigrants this November.
The bishops, gathered in Baltimore for their fall annual assembly, endorsed a statement congratulating President-elect Donald J. Trump on his election while offering "a special word to migrant and refugee families living in the United States: be assured of our solidarity and continued accompaniment as you work for a better life." They continued,
We will work to promote humane policies that protect refugees and immigrants' inherent dignity, keep families together, and honor and respect the laws of this nation…. We stand ready to work with a new administration to continue to ensure that refugees are humanely welcomed without sacrificing our security or our core values as Americans. A duty to welcome and protect newcomers, particularly refugees, is an integral part of our mission to help our neighbors in need.
AFL-CIO President Richard Trumka struck some similar notes in a post-election statement. He too congratulated the president-elect on his election win and anticipated working with him to fix an unjust and unfair global trade system. But he continued,
Make no mistake, we can never back down from our values. The presence of racism, misogyny and anti-immigrant appeals caused damage in this campaign and we must all try to repair it with inclusion, decency and honesty…. We hope to work with President-elect Trump to help him carry out this solemn responsibility. Regardless, America's labor movement will protect our democracy and safeguard the most vulnerable among us.
Many of our brothers and sisters are hard-pressed, suffering from job loss or other economic setbacks, often traceable to the new global economy. They deserve our solidarity, but we cannot address their needs at the expense of the immigrant in our land. As the Lord commanded the Israelites,  "You shall not oppress a resident alien; you well know how it feels to be an alien, since you were once aliens yourselves in the land of Egypt (Exodus 23:9)." And lest we forget, we too are strangers and aliens on the Earth whose true homeland lies elsewhere (Hebrews 11:13-14)
In the mid-20th century, Church and labor cooperated to advance critical elements of economic and social justice – things like the federal minimum wage, the social security system, and collective bargaining. Today, as Catholics and as trade unionists, we are suddenly called in a special way to the defense of the immigrant.
http://catholiclabor.org/wp-content/uploads/2015/10/CLN-logo_565x100.jpg
0
0
Clayton Sinyai
http://catholiclabor.org/wp-content/uploads/2015/10/CLN-logo_565x100.jpg
Clayton Sinyai
2016-11-30 18:20:33
2017-02-28 12:24:57
AFL-CIO, USCCB Tell Immigrants "We are with you"