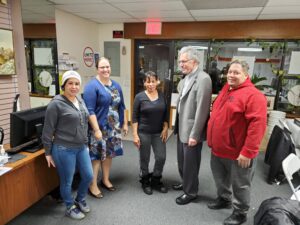 Regular readers of this newsletter know that across the country, airline food service workers – who are among the lowest paid workers in the airline industry – have organized in unions and are campaigning for a living wage and affordable health care. A few weeks ago, Fr. Gene Pocernich of the Association of US Catholic Priests, Dr. Meghan Clark of St. John's University, and I visited with workers in Queens who prepare meals for flights departing from New York City's JFK airport to learn why they had voted to strike.
We talked to Jose Dias, Margarita Segura, and Genara Vargas in their union hall, the UNITE HERE Local 100 office. They work for a contractor called LSG Sky Chefs, which services major airlines such as Delta, United, and American. All three were immigrants from the Dominican Republic. They were proud of the work they do, but told us that the hours were long and, like the airlines, the kitchens operated seven days a week.
In many cities, Sky Chefs workers earn only $8 or $9 dollars per hour, less than $20,000 per year for a full-time worker. The JFK workers counted themselves fortunate that the union and community group effort known as the "fight for $15" had won a $15 minimum wage in the city and the airport, though few would count $15 per hour/$30,000 per year a princely sum in the Big Apple! Housing ate up much of their wages. As a result, like more than 95% of their colleagues, they could not afford the high premiums for family health care coverage.
Fr. Gene observed,
I was moved to see that there so many workers struggling in this work, mostly immigrants, yet maintaining hope and a trust in God. Catholic Social Teaching, going back to Pope Leo Xlll's encyclical Rerum Novarum in 1891, has constantly affirmed the dignity of labor – and challenged employers to provide decent working conditions and an opportunity to be involved in the decisionmaking processes around work life. It's pleasing to see that membership in the UNITE HERE union has empowered these workers to stand up to injustice.
Today, Delta, United and American Airlines are performing strongly, earning billions of dollars per year. They can afford to take responsibility for ensuring their contract employees earn family-supporting wages and have access to affordable family health care coverage. The Catholic Labor Network will continue to organize support for these workers until they win a fair settlement.
For more information visit Airport Strike Alert.
Airline Food Service Workers Speak Out at Georgetown January 22
John Carr, Georgetown, to offer Catholic Social Teaching commentary
Would you like to hear firsthand from the airport food service workers on their campaign? If you are in the Washington DC area, you are in luck! On January 22 at 5pm, the Catholic Labor Network will host a panel of DMV workers who are organizing to fight for living wages, affordable access to health care, and decent working conditions – including Tenae Stover, a UNITE HERE Local 23 activist working in the kitchens at Washington National Airport. Afterward, John Carr (Initiative on Catholic Social Thought and Public Life, Georgetown University) will offer reflections on the workers' presentations based on Catholic Social Teaching. The event will be held in the Mortara Building at 3600 N St., NW in Washington DC. For more information or to RSVP, email clayton@catholiclabor.org.
http://catholiclabor.org/wp-content/uploads/2015/10/CLN-logo_565x100.jpg
0
0
Clayton Sinyai
http://catholiclabor.org/wp-content/uploads/2015/10/CLN-logo_565x100.jpg
Clayton Sinyai
2019-12-23 13:21:38
2019-12-23 13:28:00
Catholic Labor Network Delegation Visits JFK Airport Food Service Workers