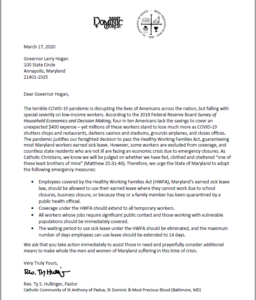 The terrible COVID-19 pandemic is disrupting the lives of Americans across the nation, but falling with special severity on low-income workers. According to the 2018 Federal Reserve Board Survey of Household Economics and Decision Making, four in ten Americans lack the savings to cover an unexpected $400 expense – yet millions of these workers stand to lose much more as COVID-19 shutters shops and restaurants, darkens casinos and stadiums, grounds airplanes, and closes offices.
While most Maryland workers enjoy paid sick leave under state law, some workers are excluded from coverage, and countless state residents who are not ill are facing an economic crisis due to emergency closures. As Catholic Christians, we know we will be judged on whether we have fed, clothed and sheltered "one of these least brothers of mine" (Matthew 25:31-46). That's why a growing number of Maryland parishes are joining other worker and community organizations and calling for the state to adopt the following emergency measures:
Employees covered by the Healthy Working Families Act (HWFA), Maryland's earned sick leave law, should be allowed to use their earned leave where they cannot work due to school closures, business closure, or because they or a family member has been quarantined by a public health official.
Coverage under the HWFA should extend to all temporary workers.
All workers whose jobs require significant public contact and those working with vulnerable populations should be immediately covered.
The waiting period to use sick leave under the HWFA should be eliminated, and the maximum number of days employees can use leave should be extended to 14 days.
Thanks to Fr. Ty Hullinger and the community at Baltimore's St. Anthony of Padua Parish for leading the way with this letter addressed to Governor Larry Hogan and the parish's state legislative delegation. We congratulate all the Maryland parishes that have taken these steps and urge others to follow their lead!
http://catholiclabor.org/wp-content/uploads/2015/10/CLN-logo_565x100.jpg
0
0
Clayton Sinyai
http://catholiclabor.org/wp-content/uploads/2015/10/CLN-logo_565x100.jpg
Clayton Sinyai
2020-03-18 09:59:42
2020-03-18 10:09:22
Maryland pastors, parishes call on state to expand sick leave eligibility during COVID-19 crisis