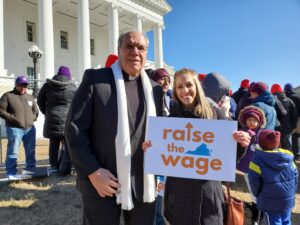 On January 21, several labor unions representing workers in low-wage occupations – notably Northern Virginia's SEIU Local 32BJ, representing janitors, and UNITE HERE Local 25, representing hotel workers – organized busloads of union workers to travel to the state capital in Richmond to visit their legislators. Accompanying them was Father Bob Cilinski, Chair of the Arlington Diocese Peace and Justice Commission and Pastor of Nativity Church in Burke. It didn't hurt that Fr. Bob's parish is located in the district represented by Assembly Speaker Eileen Filler-Corn, who was very interested in what Catholic Social Teaching had to offer on the issue! The day ended with a "Raise the Wage" rally where Fr. Bob offered a prayer and Rachel Laustrup of the Diocese of Richmond Office of Social Ministries, joined the group.
The 2020 effort has been a qualified success. Advocates called for a series of annual increases culminating in a $15/hour wage later in the decade, but opponents argued that while $15/hour might make sense in Virginia's expensive Washington DC suburbs, it was too high for some other parts of the state where the cost of living was lower.
Legislators ultimately voted to increase the wage to $9.50 an hour on Jan. 1, $11 in 2022 and $12 in 2023, and then do a study of next steps. The study would determine whether to continue on to $15, index the wage to inflation, and/or adopt a regional approach.
Either way, minimum wage workers are slated for an increase from the current $7.25 to $9.50 per hour in 2021. For a full-time minimum wage worker, that means their annual salary of just under $15,000 per year will jump to about $19,000 per year, a life-changing sum. That $4,000 could cover much of the cost for a child's braces, or a year of payments on an economy car!
Still, $19,000 per year is barely above the poverty line for a small family, so we'll be back next year to continue the fight for $15.
http://catholiclabor.org/wp-content/uploads/2015/10/CLN-logo_565x100.jpg
0
0
Clayton Sinyai
http://catholiclabor.org/wp-content/uploads/2015/10/CLN-logo_565x100.jpg
Clayton Sinyai
2020-03-12 11:36:06
2020-03-18 09:45:28
Virginia Passes Minimum Wage Increase