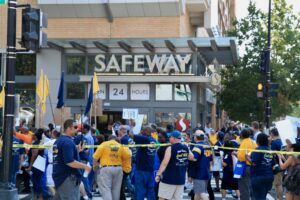 Two weeks before the COVID-19 crisis, 25,000 workers at Giant and Safeway grocery stores in the Greater Washington DC area overcame a push by the companies to end their pension plans and curtail health benefits. The members of the United Food and Commercial Workers Union (UFCW) endured months of difficult negotiations and settled excellent contracts before facing a pandemic crisis.
Giant and Safeway are among the largest chains in the Washington-Baltimore region, but the rest of their competitors like Harris Teeter and Walmart are largely nonunion. At one time, grocery stores were heavily unionized and offered decent middle-class jobs with benefits for blue collar workers. Over time, the retail sector has become increasingly part-time low wage and insecure jobs and the unionized companies face stiff competition from retailers like Walmart, which constantly seeks to drive down labor costs by pushing part time workers to do more work with less help.
While workers in unionized grocery stores can face similar challenges, a union contract makes these jobs more secure with much better benefits than the nonunion chains. Though wages are comparable between union and nonunion grocers, the union contracts give workers healthcare and retirement as well as a voice in decisions by the company. Jean St. Louis, a Catholic UFCW member in Maryland, appreciates the protection and support being a member gives her and her coworkers at Safeway.
Jean, who was part of the negotiations team, saw early on that Giant and Safeway wanted big concessions including dismantling the pension plan altogether. Holding onto the pensions became the number one issue immediately for Jean and her fellow members. She and other members were worried about the members that already retired, many of whom are disabled, and could not go back to work. Jean wondered how she could make up for 28 years in a pension plan that would be suddenly gone.
Pensions have become increasingly rare because companies do not like to have liabilities on their books and prefer to push retirement savings entirely on the shoulders of workers. Mark Federici, president of UFCW Local 400, pointed out that this system of retirement is a big problem for hourly workers because they can see decades of savings erased in a day (as we just experienced) and then put off retirement or simply retire without enough to live in dignity.
UFCW members did months of talking to their coworkers and building their union in preparation for a potential strike in order to preserve their benefits. Ultimately, the members reached an agreement with Giant and Safeway that preserved their pension plan.  The settlement also included raises and minimal healthcare increases. Jean St. Louis and President Mark Federici both expressed pride in the new contracts and President Federici believes it is the best the local has negotiated in decades.
http://catholiclabor.org/wp-content/uploads/2015/10/CLN-logo_565x100.jpg
0
0
Clayton Sinyai
http://catholiclabor.org/wp-content/uploads/2015/10/CLN-logo_565x100.jpg
Clayton Sinyai
2020-11-19 10:14:49
2020-11-19 10:18:39
UFCW 400: How a union saved retirement for thousands of Mid-Atlantic grocery workers