Peltz fends off "vote no" effort
Despite a vigorous "vote no" campaign, Wendy's Chair Nelson Peltz and his Trian Partners colleagues held on to their seats at Wendy's late-May annual shareholder meeting.
Wendy's has been under public scrutiny for some time as the lone fast-food chain to spurn the Fair Food Program, a third-party certification program monitored by workers to enforce basic labor standards in farms supplying produce.
The Fair Food Program was created by the Coalition of Immokalee Workers, a farm labor organization based in the tomato fields of Immokalee, Florida, who recently visited Trian Partners' headquarters in New York City, calling on shareholders to vote no on Peltz and his team (pictured)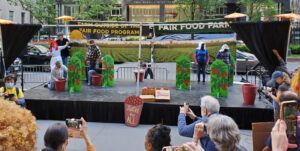 .
The origins of this year's "vote no" campaign can be traced to a 2021 shareholder resolution submitted by the Franciscan Sisters of Allegany, New York. Sister Margaret Magee, OSF explained how the sisters "met with members of the Coalition of Immokalee Workers on zoom calls, learning about labor conditions in the fields."
"We often hear the expression that we are the voice of the voiceless," Magee continued. "But these people have voices; it's that our institutions and corporations and government are socially deaf. We add our voice to their voices so the deafness can be overcome."
The Sisters held shares in Wendy's, and, working through Investor Advocates for Social Justice (IASJ) submitted a shareholder resolution calling for a review of the company's procurement practices. Pointing out that human rights violations in their agricultural supply chain could pose a risk to shareholders, the Sisters asked specific questions about third-party audits of labor standards at farms that supplied produce to Wendy's.
When other shareholders got on board, management decided to endorse the effort, and the 2021 shareholder resolution passed overwhelmingly. But the report management ultimately produced was a puff piece that dodged the hard questions, leading IASJ and other shareholders to deem management nonresponsive.
Management's dismissive response to the shareholder resolution drew public attention to another corporate governance issue at Wendy's. Trian Partners, Peltz's investment group, holds less than 20% of the stock but dominates the board's leadership positions; Wendy's is badly in need of independent directors.
IASJ and another shareholder group, Majority Action, led the charge for Peltz's removal at the May 18 shareholder meeting. A number of public pension funds lined up in support of the no vote. The AFL-CIO Office of Investment included the "vote no" campaign in its 2022 Key Votes survey.
https://catholiclabor.org/wp-content/uploads/2015/10/CLN-logo_565x100.jpg
0
0
Clayton Sinyai
https://catholiclabor.org/wp-content/uploads/2015/10/CLN-logo_565x100.jpg
Clayton Sinyai
2022-05-31 16:10:19
2022-06-03 16:20:33
Shareholder Showdown at Wendy's, Part II