The Catholic Labor Network is a place for Catholics — lay, religious and clergy — who find inspiration in Catholic Social Teaching on labor and work.
On this site we come together to exchange information about the Church and social justice and to support working people in their struggles. We promote the cause of workers and Catholic social teaching in our labor unions, parishes and other organizations.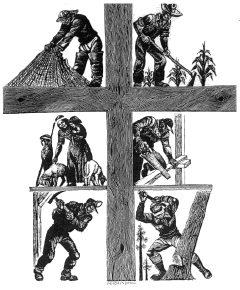 Catholic institutions, ranging from vast hospital chains to small parochial schools, employ approximately one million workers in the United States. When such institutions recognize and bargain with unions representing their employees, they model the principles of Catholic Social Teaching for lay business leaders and workers and  alike.
These institutions are a true source of Joy and Hope. The 2018
Gaudium et Spes Labor Report
lists more than 500 such institutions with unions representing some or all of their employees. The list is separated into four major sectors (Healthcare, Higher Education, K-12 Schools, and Other), then broken out by State and Diocese.
Did you know that…
http://catholiclabor.org/wp-content/uploads/2015/10/CLN-logo_565x100.jpg
0
0
Clayton Sinyai
http://catholiclabor.org/wp-content/uploads/2015/10/CLN-logo_565x100.jpg
Clayton Sinyai
2018-06-02 14:30:04
2018-06-02 14:40:38
500 Catholic Institutions That Live Catholic Social Teaching on Labor and Work
The Catholic Church and the U.S. labor movement share similar…
http://catholiclabor.org/wp-content/uploads/2015/10/CLN-logo_565x100.jpg
0
0
Clayton Sinyai
http://catholiclabor.org/wp-content/uploads/2015/10/CLN-logo_565x100.jpg
Clayton Sinyai
2018-01-07 18:29:11
2018-01-30 20:41:46
SHARED VALUES: A Report on AFL-CIO and Catholic Conference Activity in the State Legislatures
Bishops in the US and Mexico have come together to issue a remarkable…
http://catholiclabor.org/wp-content/uploads/2015/10/CLN-logo_565x100.jpg
0
0
Clayton Sinyai
http://catholiclabor.org/wp-content/uploads/2015/10/CLN-logo_565x100.jpg
Clayton Sinyai
2017-11-30 18:14:37
2018-01-15 12:50:16
American and Mexican Bishops offer Joint Statement on Renegotiating NAFTA