The Catholic Labor Network is a place for Catholics — lay, religious and clergy — who find inspiration in Catholic Social Teaching on labor and work.
http://bpis.sk/docg/viagra-generico-senza-ricetta-medica.html is a drug ingredient Sildenafil citrate. as Viagra and thus is considered as good as or an alternate pill for Viagra which is safe secure and easy for… For that you have to keep in mind thatthis is not a solution of Viagra and there is nothing big about the Kamagra which ismanufactured.
On this site we come together to exchange information about the Church and social justice and to support working people in their struggles. We promote the cause of workers and Catholic social teaching in our labor unions, parishes and other organizations.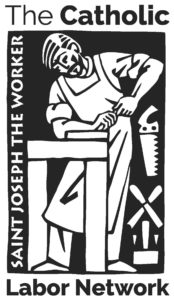 Pittsburgh's Father Jack O'Malley, one of the great labor priests and a founder of the Catholic Labor Network, has passed away. Please remember him and his family in your prayers. True to form, in his final days he was trying to organize the nurses at his hospital! The Pittsburgh Post-Gazette noted:
The Rev. John "Jack" O'Malley was known to never back down from what he believed in.

The Roman Catholic priest's friends and colleagues would describe him as someone who never strayed from his moral values and wasn't afraid to call out injustice. Throughout his life as a pastor, Father O'Malley often would picket with labor unions, even getting arrested several times while protesting.

Father O'Malley, 83, who died on Friday at a residence in the West End, would refer to these acts of civil disobedience as "divine obedience," his friends said, recalling one of many arrests during the Grape Boycott in the Strip District in the 1970s protesting workers' low wages….

Even during a recent hospitalization at UPMC Mercy while dealing with Parkinson's disease, Father O'Malley tried to organize hospital workers to form a union. The Rev. John Oesterle, a chaplain at UPMC Mercy, said he was visiting Father O'Malley just two weeks ago when Father Oesterle  recalled Father O'Malley asking a nurse who was assisting him if she was in a union…
CLICK HERE for the complete obituary.
http://catholiclabor.org/wp-content/uploads/2015/10/CLN-logo_565x100.jpg
0
0
Clayton Sinyai
http://catholiclabor.org/wp-content/uploads/2015/10/CLN-logo_565x100.jpg
Clayton Sinyai
2020-09-14 10:01:38
2020-09-14 12:41:08
Fr. Jack O'Malley, legendary labor priest, dies at 83
If you add up all the Churches, schools, hospitals, universities,…
http://catholiclabor.org/wp-content/uploads/2015/10/CLN-logo_565x100.jpg
0
0
Clayton Sinyai
http://catholiclabor.org/wp-content/uploads/2015/10/CLN-logo_565x100.jpg
Clayton Sinyai
2020-08-17 14:39:38
2020-08-17 14:43:06
Gaudium et Spes Labor Report 2020: 600+ Catholic Institutions with Unions
As a former Letter Carrier for the US Postal Service, I have…
http://catholiclabor.org/wp-content/uploads/2015/10/CLN-logo_565x100.jpg
0
0
Clayton Sinyai
http://catholiclabor.org/wp-content/uploads/2015/10/CLN-logo_565x100.jpg
Clayton Sinyai
2020-08-18 10:41:10
2020-08-19 08:13:11
Thoughts on the Postal Crisis from a Letter Carrier