The Catholic Labor Network is a place for Catholics — lay, religious and clergy — who find inspiration in Catholic Social Teaching on labor and work.
http://bpis.sk/docg/viagra-generico-senza-ricetta-medica.html is a drug ingredient Sildenafil citrate. as Viagra and thus is considered as good as or an alternate pill for Viagra which is safe secure and easy for… For that you have to keep in mind thatthis is not a solution of Viagra and there is nothing big about the Kamagra which ismanufactured.
On this site we come together to exchange information about the Church and social justice and to support working people in their struggles. We promote the cause of workers and Catholic social teaching in our labor unions, parishes and other organizations.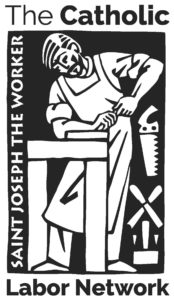 This month marks the 130th anniversary of Rerum Novarum, the foundational text of modern Catholic Social Teaching. After careful study of the industrial era economy and its impact on workers, in light of the Good News, Pope Leo XIII shared his new encyclical letter with the world on May 15, 1891. The document made the right of workers to organize in unions an official element of Catholic social doctrine – a right that was not protected in US law until more than forty years later!
The Catholic Labor Network will mark this anniversary with a special online presentation. Professor Gerry Beyer of Villanova University will discuss Rerum Novarum and the rights of workers in Catholic Social Teaching. Afterward Catholic Labor Network board member Chuck Hendricks of UNITE HERE will reflect on his experience as a young worker trying to organize in the United States, illustrating just how far we have to go to realize Pope Leo's vision. Join us at 2pm ET on May 12 for this event!
http://catholiclabor.org/wp-content/uploads/2015/10/CLN-logo_565x100.jpg
0
0
Clayton Sinyai
http://catholiclabor.org/wp-content/uploads/2015/10/CLN-logo_565x100.jpg
Clayton Sinyai
2021-05-06 16:54:13
2021-05-06 16:56:19
Online Event: Rerum Novarum at 130
Some employers replacing furloughed workers with temps The covid-19…
http://catholiclabor.org/wp-content/uploads/2015/10/CLN-logo_565x100.jpg
0
0
Clayton Sinyai
http://catholiclabor.org/wp-content/uploads/2015/10/CLN-logo_565x100.jpg
Clayton Sinyai
2020-11-02 08:27:13
2020-11-02 08:43:20
Workers Discuss "Right to Recall" in Online Forum
Tobacco farm workers face sub-minimum wages, human trafficking,…
http://catholiclabor.org/wp-content/uploads/2015/10/CLN-logo_565x100.jpg
0
0
Clayton Sinyai
http://catholiclabor.org/wp-content/uploads/2015/10/CLN-logo_565x100.jpg
Clayton Sinyai
2021-04-08 08:29:41
2021-04-08 08:29:56
Are you a faith leader? Stand up for farmworkers in North Carolina's tobacco fields
If you add up all the Churches, schools, hospitals, universities,…
http://catholiclabor.org/wp-content/uploads/2015/10/CLN-logo_565x100.jpg
0
0
Clayton Sinyai
http://catholiclabor.org/wp-content/uploads/2015/10/CLN-logo_565x100.jpg
Clayton Sinyai
2020-08-17 14:39:38
2020-11-04 11:19:42
Gaudium et Spes Labor Report 2020: 600+ Catholic Institutions with Unions