The Catholic Labor Network is a place for Catholics — lay, religious and clergy — who find inspiration in Catholic Social Teaching on labor and work.
http://bpis.sk/docg/viagra-generico-senza-ricetta-medica.html is a drug ingredient Sildenafil citrate. as Viagra and thus is considered as good as or an alternate pill for Viagra which is safe secure and easy for… For that you have to keep in mind thatthis is not a solution of Viagra and there is nothing big about the Kamagra which ismanufactured.
On this site we come together to exchange information about the Church and social justice and to support working people in their struggles. We promote the cause of workers and Catholic social teaching in our labor unions, parishes and other organizations.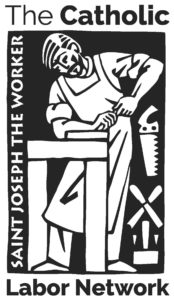 In Washington DC's National Airport, a group of immigrant workers from Africa and Latin America has been struggling for years to form a union and bargain for a living wage. Now they are concerned that their employer, the multinational corporation Eulen Group, will use covid-related layoffs to kill the their union drive, targeting union activists.
At National Airport, Eulen employees clean airplane cabins and terminal floors, push wheelchairs and perform other service tasks. Eulen is one of several contractors performing this work at the Washington National and Dulles Airports, but the company has distinguished itself by fighting tooth and nail to prevent its workers from organizing at Washington National — Read more
http://catholiclabor.org/wp-content/uploads/2015/10/CLN-logo_565x100.jpg
0
0
Clayton Sinyai
http://catholiclabor.org/wp-content/uploads/2015/10/CLN-logo_565x100.jpg
Clayton Sinyai
2020-05-15 09:32:50
2020-05-25 08:56:12
Will Eulen use pandemic as a union prevention tool at Washington National Airport?
Catholic Church leaders across the country are responding to…
http://catholiclabor.org/wp-content/uploads/2015/10/CLN-logo_565x100.jpg
0
0
Clayton Sinyai
http://catholiclabor.org/wp-content/uploads/2015/10/CLN-logo_565x100.jpg
Clayton Sinyai
2020-06-02 09:23:54
2020-06-02 09:24:16
Church Leaders Respond to Floyd Killing
Labor leaders across the country are responding to the tragic…
http://catholiclabor.org/wp-content/uploads/2015/10/CLN-logo_565x100.jpg
0
0
Clayton Sinyai
http://catholiclabor.org/wp-content/uploads/2015/10/CLN-logo_565x100.jpg
Clayton Sinyai
2020-06-02 09:26:50
2020-06-02 11:39:03
Labor Leaders Respond to Floyd Killing