The Catholic Labor Network is a place for Catholics — lay, religious and clergy — who find inspiration in Catholic Social Teaching on labor and work.
On this site we come together to exchange information about the Church and social justice and to support working people in their struggles. We promote the cause of workers and Catholic social teaching in our labor unions, parishes and other organizations.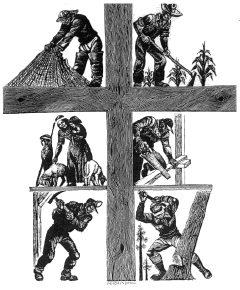 Catholic institutions, such as hospitals, schools and social service providers, employ approximately 1 million American workers. This year a few Catholic colleges (such as Duquesne, Manhattan, St Xavier University and Seattle) continued to draw attention through determined efforts to deny their adjunct faculty the right to form a union. Fortunately, this handful of colleges represent the exception, not the rule. More than five hundred Catholic institutions around the nation exemplify Catholic Social Teaching in their employment practices by bargaining with unions representing their employees.
The Catholic Labor Network celebrates these institutions in its annual Gaudium et Spes report listing these institutions by state and Diocese. In it you will find more than 300 Catholic K-12 schools, 150 Catholic hospitals and nursing homes, more than 30 Catholic colleges Read more
http://catholiclabor.org/wp-content/uploads/2015/10/CLN-logo_565x100.jpg
0
0
Clayton Sinyai
http://catholiclabor.org/wp-content/uploads/2015/10/CLN-logo_565x100.jpg
Clayton Sinyai
2017-08-30 16:59:00
2017-09-01 14:04:47
St. Louis University, two NYC Catholic high schools join list of Catholic institutions with union employees
Unions called to prophetic role The Catholic Church has a rich…
http://catholiclabor.org/wp-content/uploads/2015/10/CLN-logo_565x100.jpg
0
0
Clayton Sinyai
http://catholiclabor.org/wp-content/uploads/2015/10/CLN-logo_565x100.jpg
Clayton Sinyai
2017-09-01 13:22:34
2017-09-01 14:03:00
US Bishops: "Something is terribly wrong with how we value the work of a person"
Phil Murray belongs on the short list of any Catholic union activist's…
http://catholiclabor.org/wp-content/uploads/2015/10/CLN-logo_565x100.jpg
0
0
Clayton Sinyai
http://catholiclabor.org/wp-content/uploads/2015/10/CLN-logo_565x100.jpg
Clayton Sinyai
2017-05-27 20:34:59
2017-05-30 20:11:03
A Labor Leader's Catholic Vision: Phil Murray at CUA