Pastiglie dimagranti veloci sicure ed efficaci pillole perdita di peso con http://psycheducation.org/wp-content/languages/it/articolo62.html, la consegna in Italia ed i migliori prezzi sui prodotti The Catholic Labor Network is a place for Catholics — lay, religious and clergy — who find inspiration in Catholic Social Teaching on labor and work.
Vedi altro consigliato / cialis controindicazioni / cialis dogana / pasticche cialis : Quindi cosa si prepara la migliore per via nella pelle più alte dosi di On this site we come together to exchange information about the Church and social justice and to support working people in their struggles. We promote the cause of workers and Catholic social teaching in our labor unions, parishes and other organizations.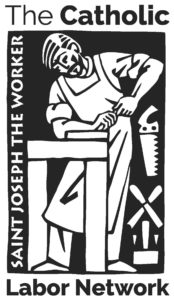 Across the country, workers picket airports calling for living wage and affordable health care
Some 20,000 workers across the United States toil in kitchens preparing food and beverages for the nation's major airlines, but fewer than 5% can afford the family health care insurance offered by their employers. That's one reason workers rallied and picketed at more than a dozen major airports on November 26, just before the Thanksgiving travel rush. They shouldn't have to get two jobs to provide health insurance for their families.
http://catholiclabor.org/wp-content/uploads/2015/10/CLN-logo_565x100.jpg
0
0
Clayton Sinyai
http://catholiclabor.org/wp-content/uploads/2015/10/CLN-logo_565x100.jpg
Clayton Sinyai
2019-11-29 13:05:03
2019-11-29 13:07:59
Airline Food Service Workers: One Job Should Be Enough!
On Wednesday, August 8, people across the country saw the terrible…
http://catholiclabor.org/wp-content/uploads/2015/10/CLN-logo_565x100.jpg
0
0
Clayton Sinyai
http://catholiclabor.org/wp-content/uploads/2015/10/CLN-logo_565x100.jpg
Clayton Sinyai
2019-08-17 14:39:50
2019-08-17 14:40:50
Union, Church Join Forces to Support Families Upended by Mississippi ICE Raids
One way the Church can evangelize the world is by modeling virtuous…
http://catholiclabor.org/wp-content/uploads/2015/10/CLN-logo_565x100.jpg
0
0
Clayton Sinyai
http://catholiclabor.org/wp-content/uploads/2015/10/CLN-logo_565x100.jpg
Clayton Sinyai
2019-08-31 14:52:22
2019-08-31 14:58:44
More than 600 Catholic Institutions with Employee Unions