The Catholic Labor Network is a place for Catholics — lay, religious and clergy — who find inspiration in Catholic Social Teaching on labor and work.
On this site we come together to exchange information about the Church and social justice and to support working people in their struggles. We promote the cause of workers and Catholic social teaching in our labor unions, parishes and other organizations.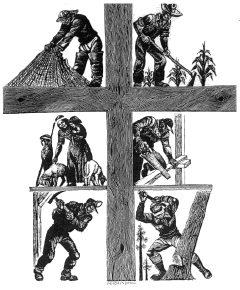 Also: Loyola University Chicago, Adjuncts Settle First Contract
For some time, it has looked like the Georgetown University administration and its graduate student teaching and research assistants were headed for a legal showdown at the National Labor Relations Board (NLRB). The students said they were university employees and wanted to vote on union representation in an NLRB-certified election; the University said they were not workers but students and not covered by the NLRB. It had all the makings of an ugly labor dispute.
The university felt confident it had the stronger legal argument and would prevail. But then administrators realized: even if we win the legal case, we are still bound by Catholic Social Teaching, and CST is pretty clear about workers' right to organize. Read more
http://catholiclabor.org/wp-content/uploads/2015/10/CLN-logo_565x100.jpg
0
0
Clayton Sinyai
http://catholiclabor.org/wp-content/uploads/2015/10/CLN-logo_565x100.jpg
Clayton Sinyai
2018-05-07 16:58:19
2018-05-07 19:30:54
Georgetown, Grad Student Union Set Aside Legal Fight, Opt for New Labor Relations Model
The Catholic Church and the U.S. labor movement share similar…
http://catholiclabor.org/wp-content/uploads/2015/10/CLN-logo_565x100.jpg
0
0
Clayton Sinyai
http://catholiclabor.org/wp-content/uploads/2015/10/CLN-logo_565x100.jpg
Clayton Sinyai
2018-01-07 18:29:11
2018-01-30 20:41:46
SHARED VALUES: A Report on AFL-CIO and Catholic Conference Activity in the State Legislatures
Bishops in the US and Mexico have come together to issue a remarkable…
http://catholiclabor.org/wp-content/uploads/2015/10/CLN-logo_565x100.jpg
0
0
Clayton Sinyai
http://catholiclabor.org/wp-content/uploads/2015/10/CLN-logo_565x100.jpg
Clayton Sinyai
2017-11-30 18:14:37
2018-01-15 12:50:16
American and Mexican Bishops offer Joint Statement on Renegotiating NAFTA