The Catholic Labor Network is a place for Catholics — lay, religious and clergy — who find inspiration in Catholic Social Teaching on labor and work.
On this site we come together to exchange information about the Church and social justice and to support working people in their struggles. We promote the cause of workers and Catholic social teaching in our labor unions, parishes and other organizations.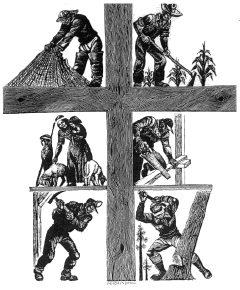 The adjunct instructors at St. Martin's University have made clear that they want to be represented by a labor union and bargain collectively with their employer, a right expressly protected in Catholic social teaching. The university administration has refused to do so, arguing that bargaining under the National Labor Relations Act would constitute an assault on their religious liberty.
Although many other Catholic colleges and universities, such as Georgetown, Trinity Washington and Saint Louis University, have bargained with adjunct employee unions under these conditions without incident, the adjuncts —  not wishing to place a stumbling block (1 Cor 8:9) in the administrators' path — offered to bargain outside the framework of the Act as many Catholic K-12 schools do. Sadly, the administration has refused to do this as well.
The Catholic Labor Network recently addressed a letter to President of St. Martin's, urging him to reconsider. CLICK HERE to read the letter.
http://catholiclabor.org/wp-content/uploads/2015/10/CLN-logo_565x100.jpg
0
0
Clayton Sinyai
http://catholiclabor.org/wp-content/uploads/2015/10/CLN-logo_565x100.jpg
Clayton Sinyai
2017-05-13 16:21:57
2017-05-13 16:33:31
Catholic Labor Network Calls on St. Martin's University to bargain with adjunct union
While many of us see paid sick leave as a standard employment…
http://catholiclabor.org/wp-content/uploads/2015/10/CLN-logo_565x100.jpg
0
0
Clayton Sinyai
http://catholiclabor.org/wp-content/uploads/2015/10/CLN-logo_565x100.jpg
Clayton Sinyai
2017-03-29 20:51:50
2017-05-13 18:38:29
Maryland Catholic Conference, Maryland AFL-CIO unite to fight for paid sick leave
Iowa seems to be ground zero in an assault on worker rights…
http://catholiclabor.org/wp-content/uploads/2015/10/CLN-logo_565x100.jpg
0
0
Clayton Sinyai
http://catholiclabor.org/wp-content/uploads/2015/10/CLN-logo_565x100.jpg
Clayton Sinyai
2017-02-27 17:42:09
2017-02-28 12:25:54
Anti-Labor Politicians Target Union Rights of Iowa Public Workers, Over Bishops' Objections