The Catholic Labor Network is a place for Catholics — lay, religious and clergy — who find inspiration in Catholic Social Teaching on labor and work.
On this site we come together to exchange information about the Church and social justice and to support working people in their struggles. We promote the cause of workers and Catholic social teaching in our labor unions, parishes and other organizations.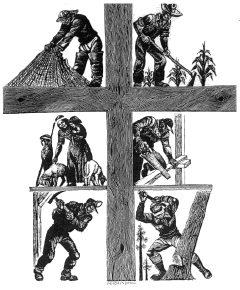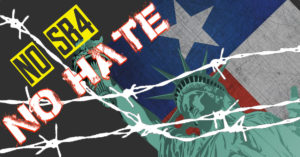 In the wake of a headline-making scuffle between legislators, the whole nation has learned about "SB4," the Texas legislation targeting "sanctuary cities." But the Texas Catholic Conference and the Texas AFL-CIO have been fighting the proposal for months.  SB4 would prohibit "sanctuary" policies adopted by police departments in cities across the Lone Star State to win trust and cooperation in immigrant communities. They assured even the undocumented that the police were there to fight crime, not enforce federal immigration laws.
Both the Church and the labor movement vocally opposed SB4.  Bishop Joe Vasquez of Austin testified that Read more
http://catholiclabor.org/wp-content/uploads/2015/10/CLN-logo_565x100.jpg
0
0
Clayton Sinyai
http://catholiclabor.org/wp-content/uploads/2015/10/CLN-logo_565x100.jpg
Clayton Sinyai
2017-05-27 19:45:42
2017-05-30 20:07:01
Texas Targets "Sanctuary Cities" over Labor, Church Objections
The Texas AFL-CIO has spent months trying to stop SB4, a bill…
http://catholiclabor.org/wp-content/uploads/2015/10/CLN-logo_565x100.jpg
0
0
Clayton Sinyai
http://catholiclabor.org/wp-content/uploads/2015/10/CLN-logo_565x100.jpg
Clayton Sinyai
2017-05-30 19:55:53
2017-05-30 20:53:14
Texas AFL-CIO Video: No to SB4 "Show Your Papers" Law
Phil Murray belongs on the short list of any Catholic union activist's…
http://catholiclabor.org/wp-content/uploads/2015/10/CLN-logo_565x100.jpg
0
0
Clayton Sinyai
http://catholiclabor.org/wp-content/uploads/2015/10/CLN-logo_565x100.jpg
Clayton Sinyai
2017-05-27 20:34:59
2017-05-30 20:11:03
A Labor Leader's Catholic Vision: Phil Murray at CUA