The Catholic Labor Network is a place for Catholics — lay, religious and clergy — who find inspiration in Catholic Social Teaching on labor and work.
http://bpis.sk/docg/viagra-generico-senza-ricetta-medica.html is a drug ingredient Sildenafil citrate. as Viagra and thus is considered as good as or an alternate pill for Viagra which is safe secure and easy for… For that you have to keep in mind thatthis is not a solution of Viagra and there is nothing big about the Kamagra which ismanufactured.
On this site we come together to exchange information about the Church and social justice and to support working people in their struggles. We promote the cause of workers and Catholic social teaching in our labor unions, parishes and other organizations.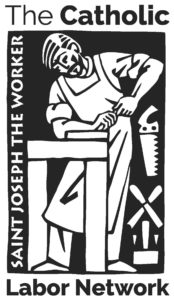 Feb. 6-9, 2021
Each year the US Conference of Catholic Bishops' Department of Justice, Peace and Human Development hosts a Catholic Social Ministry Gathering in Washington DC. The event brings together those motivated by their Catholic faith to fight for an end to poverty and exploitation, global warming, racism, the death penalty, war and other crucial social justice causes.
If cost and travel time have kept you from participating in the past, CSMG 2021 is your opportunity! Due to the pandemic, the event will be a virtual one this year, which will enable many more people to participate and exchange views. This year's theme is "Make justice your aim (cf. Is. 1:17): Rebuilding Together." The Catholic Labor Network has teamed up with Catholic Charities USA to hold a workshop on new models for worker organizing, and the entire event will end with a virtual lobby day on Capitol Hill where you'll be able to testify for justice before your elected representatives.
Registration is only $50. CLICK HERE to sign up today!
http://catholiclabor.org/wp-content/uploads/2015/10/CLN-logo_565x100.jpg
0
0
Clayton Sinyai
http://catholiclabor.org/wp-content/uploads/2015/10/CLN-logo_565x100.jpg
Clayton Sinyai
2021-01-08 10:36:49
2021-01-08 10:36:49
Catholic Social Ministry Gathering 2021 – Register Now!
Some employers replacing furloughed workers with temps The covid-19…
http://catholiclabor.org/wp-content/uploads/2015/10/CLN-logo_565x100.jpg
0
0
Clayton Sinyai
http://catholiclabor.org/wp-content/uploads/2015/10/CLN-logo_565x100.jpg
Clayton Sinyai
2020-11-02 08:27:13
2020-11-02 08:43:20
Workers Discuss "Right to Recall" in Online Forum
If you add up all the Churches, schools, hospitals, universities,…
http://catholiclabor.org/wp-content/uploads/2015/10/CLN-logo_565x100.jpg
0
0
Clayton Sinyai
http://catholiclabor.org/wp-content/uploads/2015/10/CLN-logo_565x100.jpg
Clayton Sinyai
2020-08-17 14:39:38
2020-11-04 11:19:42
Gaudium et Spes Labor Report 2020: 600+ Catholic Institutions with Unions