The Catholic Labor Network is a place for Catholics — lay, religious and clergy — who find inspiration in Catholic Social Teaching on labor and work.
On this site we come together to exchange information about the Church and social justice and to support working people in their struggles. We promote the cause of workers and Catholic social teaching in our labor unions, parishes and other organizations.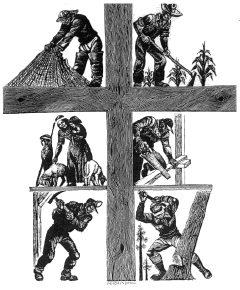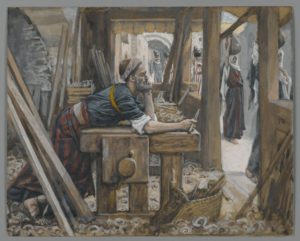 You probably know that May 1 is celebrated in many nations as Labor Day. Did you also know that the Church marks this day as the Feast of St. Joseph the Worker? As Pope Francis observed on May 1, 2013, in his general audience…
Jesus is born and lives in a family, in the Holy Family, learning the carpenter's craft from St Joseph in his workshop in Nazareth, sharing with him the commitment, effort, satisfaction and also the difficulties of every day. This reminds us of the dignity and importance of work….Work is fundamental to the dignity of a person. Work, to use a metaphor, "anoints" us with dignity, fills us with dignity, makes us similar to God, who has worked and still works…
To read the Pope's entire message, CLICK HERE!
http://catholiclabor.org/wp-content/uploads/2015/10/CLN-logo_565x100.jpg
0
0
Clayton Sinyai
http://catholiclabor.org/wp-content/uploads/2015/10/CLN-logo_565x100.jpg
Clayton Sinyai
2016-04-30 13:56:44
2016-04-30 14:56:34
May 1 - Feast of St. Joseph the Worker
Around the world, April 28 is recognized as Workers' Memorial…
http://catholiclabor.org/wp-content/uploads/2015/10/CLN-logo_565x100.jpg
0
0
Clayton Sinyai
http://catholiclabor.org/wp-content/uploads/2015/10/CLN-logo_565x100.jpg
Clayton Sinyai
2016-04-27 17:01:43
2016-04-27 17:02:46
Workers' Memorial Day 2016
Professors Gerry Beyer (Theology, Villanova) and Donald Carroll…
http://catholiclabor.org/wp-content/uploads/2015/10/CLN-logo_565x100.jpg
0
0
Clayton Sinyai
http://catholiclabor.org/wp-content/uploads/2015/10/CLN-logo_565x100.jpg
Clayton Sinyai
2016-04-16 08:23:57
2016-04-16 09:09:09
"Battling Adjunct Unions Flunks Legal and Moral Tests" say Beyer, Carroll