The Catholic Labor Network is a place for Catholics — lay, religious and clergy — who find inspiration in Catholic Social Teaching on labor and work.
http://bpis.sk/docg/viagra-generico-senza-ricetta-medica.html is a drug ingredient Sildenafil citrate. as Viagra and thus is considered as good as or an alternate pill for Viagra which is safe secure and easy for… For that you have to keep in mind thatthis is not a solution of Viagra and there is nothing big about the Kamagra which ismanufactured.
On this site we come together to exchange information about the Church and social justice and to support working people in their struggles. We promote the cause of workers and Catholic social teaching in our labor unions, parishes and other organizations.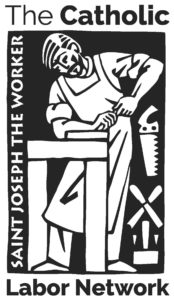 March 10, 4pm ET
In the mid-1990s a group of Catholic priests and union activists met while organizing solidarity for the locked-out workers of A.E. Staley in Decatur IL. They proceeded to hold the founding conference of the Catholic Labor Network in March of 1996. Join us and hear a panel of speakers look back at the founding of the Network and its early years. Panelists will include union Seafarer, pastor and spiritual moderator of the CLN, Fr. Sinclair Oubre; Kim Bobo, former Executive Director of Interfaith Worker Justice; and Thomas Shellabarger, former policy advisor to the US Conference of Catholic Bishops. CLICK TO REGISTER
http://catholiclabor.org/wp-content/uploads/2015/10/CLN-logo_565x100.jpg
0
0
Clayton Sinyai
http://catholiclabor.org/wp-content/uploads/2015/10/CLN-logo_565x100.jpg
Clayton Sinyai
2021-02-26 10:00:20
2021-02-26 10:00:28
ONLINE EVENT: Catholic Labor Network's 25th Anniversary
Some employers replacing furloughed workers with temps The covid-19…
http://catholiclabor.org/wp-content/uploads/2015/10/CLN-logo_565x100.jpg
0
0
Clayton Sinyai
http://catholiclabor.org/wp-content/uploads/2015/10/CLN-logo_565x100.jpg
Clayton Sinyai
2020-11-02 08:27:13
2020-11-02 08:43:20
Workers Discuss "Right to Recall" in Online Forum
If you add up all the Churches, schools, hospitals, universities,…
http://catholiclabor.org/wp-content/uploads/2015/10/CLN-logo_565x100.jpg
0
0
Clayton Sinyai
http://catholiclabor.org/wp-content/uploads/2015/10/CLN-logo_565x100.jpg
Clayton Sinyai
2020-08-17 14:39:38
2020-11-04 11:19:42
Gaudium et Spes Labor Report 2020: 600+ Catholic Institutions with Unions