The Catholic Labor Network is a place for Catholics — lay, religious and clergy — who find inspiration in Catholic Social Teaching on labor and work.
On this site we come together to exchange information about the Church and social justice and to support working people in their struggles. We promote the cause of workers and Catholic social teaching in our labor unions, parishes and other organizations.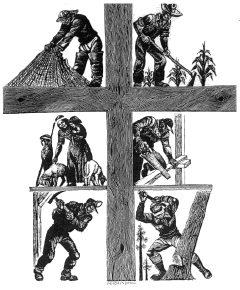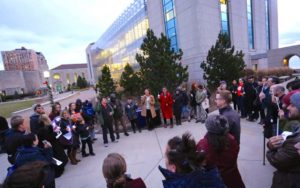 We are pleased to report that Loyola University Chicago has established a Just Employment Task Force to examine university labor and employment practices in light of Catholic Social Teaching! Loyola has witnessed a number of labor disputes in recent years. Food service workers there, who belong to UNITE HERE and are employed by a university contractor, tangled with their employer over health benefits. Loyola's adjunct faculty (right) voted to join the SEIU and are in the process of negotiating their first contract. And last month graduate teaching assistants voted to join the SEIU as well.
Too often, employers and administrators become defensive when workers organize and turn to professional union-busters for advice. Loyola, it seems, is instead consulting Catholic social doctrine to determine how to move forward. Jo Ann Rooney, Loyola's new President, said: Read more →
http://catholiclabor.org/wp-content/uploads/2015/10/CLN-logo_565x100.jpg
0
0
Clayton Sinyai
http://catholiclabor.org/wp-content/uploads/2015/10/CLN-logo_565x100.jpg
Clayton Sinyai
2017-03-14 14:43:07
2017-03-15 11:32:51
Loyola University Chicago Appoints "Just Employment Task Force"
Since last November, anti-labor politicians have made a concerted…
http://catholiclabor.org/wp-content/uploads/2015/10/CLN-logo_565x100.jpg
0
0
Clayton Sinyai
http://catholiclabor.org/wp-content/uploads/2015/10/CLN-logo_565x100.jpg
Clayton Sinyai
2017-02-27 17:33:15
2017-03-14 19:03:03
Right to Work Heads to US Congress, but Hits Speed Bump in NH
Iowa seems to be ground zero in an assault on worker rights…
http://catholiclabor.org/wp-content/uploads/2015/10/CLN-logo_565x100.jpg
0
0
Clayton Sinyai
http://catholiclabor.org/wp-content/uploads/2015/10/CLN-logo_565x100.jpg
Clayton Sinyai
2017-02-27 17:42:09
2017-02-28 12:25:54
Anti-Labor Politicians Target Union Rights of Iowa Public Workers, Over Bishops' Objections