The Catholic Labor Network is a place for Catholics — lay, religious and clergy — who find inspiration in Catholic Social Teaching on labor and work.
On this site we come together to exchange information about the Church and social justice and to support working people in their struggles. We promote the cause of workers and Catholic social teaching in our labor unions, parishes and other organizations.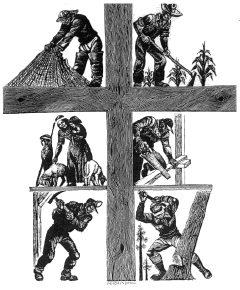 Over the past two months, hotel workers in our nation's major metropolitan areas have walked out of Marriott hotels in a nationwide strike. As of October 8, nearly 8,000 members of the hotel workers' union UNITE HERE were on the picket lines in Boston, Detroit, Honolulu, San Diego, and the San Francisco Bay Area. What do they want? Well, it's simple really. They are tired of working multiple jobs to earn enough to support their families. Their placards say it all: One Job Should Be Enough.
There was a time in this country when a man or woman who was willing to work hard and put in a forty-hour week would earn enough to live, modestly but comfortably Read more
http://catholiclabor.org/wp-content/uploads/2015/10/CLN-logo_565x100.jpg
0
0
Clayton Sinyai
http://catholiclabor.org/wp-content/uploads/2015/10/CLN-logo_565x100.jpg
Clayton Sinyai
2018-10-31 17:34:32
2018-10-31 17:47:25
ONE JOB SHOULD BE ENOUGH: What the Marriott Strike Is All About
Catholic institutions, ranging from vast hospital chains…
http://catholiclabor.org/wp-content/uploads/2015/10/CLN-logo_565x100.jpg
0
0
Clayton Sinyai
http://catholiclabor.org/wp-content/uploads/2015/10/CLN-logo_565x100.jpg
Clayton Sinyai
2018-06-02 14:30:04
2018-07-01 17:14:01
500 Catholic Institutions That Live Catholic Social Teaching on Labor and Work
The Catholic Church and the U.S. labor movement share similar…
http://catholiclabor.org/wp-content/uploads/2015/10/CLN-logo_565x100.jpg
0
0
Clayton Sinyai
http://catholiclabor.org/wp-content/uploads/2015/10/CLN-logo_565x100.jpg
Clayton Sinyai
2018-01-07 18:29:11
2018-07-01 17:14:35
SHARED VALUES: A Report on AFL-CIO and Catholic Conference Activity in the State Legislatures