The Catholic Labor Network is a place for Catholics — lay, religious and clergy — who find inspiration in Catholic Social Teaching on labor and work.
On this site we come together to exchange information about the Church and social justice and to support working people in their struggles. We promote the cause of workers and Catholic social teaching in our labor unions, parishes and other organizations.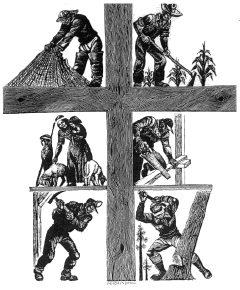 The Catholic Church and the U.S. labor movement share similar positions in several major policy areas, with each supporting a living wage for all who work, the right to organize in labor unions, and the protection of immigrants – even those who are undocumented. So we in the Catholic Labor Network wondered: how often do the two groups work on the same issues?
http://catholiclabor.org/wp-content/uploads/2015/10/CLN-logo_565x100.jpg
0
0
Clayton Sinyai
http://catholiclabor.org/wp-content/uploads/2015/10/CLN-logo_565x100.jpg
Clayton Sinyai
2018-01-07 18:29:11
2018-01-15 12:48:28
SHARED VALUES: A Report on AFL-CIO and Catholic Conference Activity in the State Legislatures
November 2017 witnessed a historic gathering at the Holy See…
http://catholiclabor.org/wp-content/uploads/2015/10/CLN-logo_565x100.jpg
0
0
Clayton Sinyai
http://catholiclabor.org/wp-content/uploads/2015/10/CLN-logo_565x100.jpg
Clayton Sinyai
2017-11-30 18:12:03
2018-01-15 12:49:32
Vatican Organizes International Conference of Union Leaders
Bishops in the US and Mexico have come together to issue a remarkable…
http://catholiclabor.org/wp-content/uploads/2015/10/CLN-logo_565x100.jpg
0
0
Clayton Sinyai
http://catholiclabor.org/wp-content/uploads/2015/10/CLN-logo_565x100.jpg
Clayton Sinyai
2017-11-30 18:14:37
2018-01-15 12:50:16
American and Mexican Bishops offer Joint Statement on Renegotiating NAFTA