The Catholic Labor Network is a place for Catholics — lay, religious and clergy — who find inspiration in Catholic Social Teaching on labor and work.
On this site we come together to exchange information about the Church and social justice and to support working people in their struggles. We promote the cause of workers and Catholic social teaching in our labor unions, parishes and other organizations.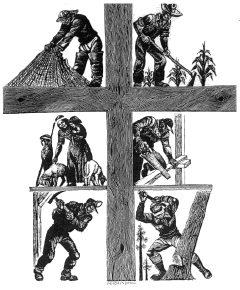 In the labor movement, all eyes are on the Supreme Court and Janus v. AFSCME, where a member of the union is arguing that paying "agency fees" to pay for its services violates his freedom of speech. If Janus wins, all of state and local government employment will be rendered "right-to-work" and unions critically weakened.
On January 19, the US Conference of Catholic Bishops weighed in with a powerful amicus brief defending the right of workers to organize and opposing Janus and "right-to-work." Read more
http://catholiclabor.org/wp-content/uploads/2015/10/CLN-logo_565x100.jpg
0
0
Clayton Sinyai
http://catholiclabor.org/wp-content/uploads/2015/10/CLN-logo_565x100.jpg
Clayton Sinyai
2018-01-30 20:22:36
2018-01-30 20:44:15
US Bishops: No to Janus, No to "Right-to-Work"
The Catholic Church and the U.S. labor movement share similar…
http://catholiclabor.org/wp-content/uploads/2015/10/CLN-logo_565x100.jpg
0
0
Clayton Sinyai
http://catholiclabor.org/wp-content/uploads/2015/10/CLN-logo_565x100.jpg
Clayton Sinyai
2018-01-07 18:29:11
2018-01-30 20:41:46
SHARED VALUES: A Report on AFL-CIO and Catholic Conference Activity in the State Legislatures
Bishops in the US and Mexico have come together to issue a remarkable…
http://catholiclabor.org/wp-content/uploads/2015/10/CLN-logo_565x100.jpg
0
0
Clayton Sinyai
http://catholiclabor.org/wp-content/uploads/2015/10/CLN-logo_565x100.jpg
Clayton Sinyai
2017-11-30 18:14:37
2018-01-15 12:50:16
American and Mexican Bishops offer Joint Statement on Renegotiating NAFTA