The Catholic Labor Network is a place for Catholics — lay, religious and clergy — who find inspiration in Catholic Social Teaching on labor and work.
On this site we come together to exchange information about the Church and social justice and to support working people in their struggles. We promote the cause of workers and Catholic social teaching in our labor unions, parishes and other organizations.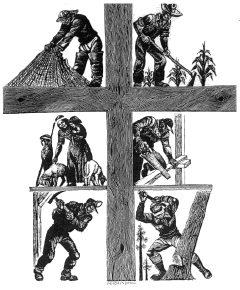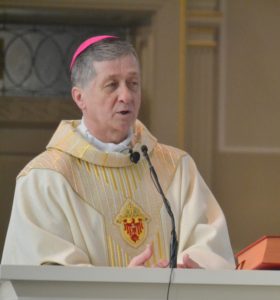 Early in October, Pope Francis announced his intent to create 17 new cardinals. The Catholic Labor Network was pleased to learn that Archbishop Blase Cupich of Chicago was among them – the Archbishop's deep commitment to Catholic social teaching on labor and work is quite evident.
Archbishop Cupich is surely familiar to readers of the Catholic Labor Network newsletters and blog. When the Illinois legislature was considering so-called "right-to-work" legislation, the Archbishop challenged its political supporters to reconcile their proposal with Catholic social teaching – which calls for "the promotion of workers' associations." This summer he adopted a paid parental leave policy for Archdiocesan employees – in a single gesture, acting to advance worker justice, setting a good example for Catholic business leaders, and promoting Catholic teaching on life and the family.
Please keep our newest Cardinal in your prayers!
http://catholiclabor.org/wp-content/uploads/2015/10/CLN-logo_565x100.jpg
0
0
Clayton Sinyai
http://catholiclabor.org/wp-content/uploads/2015/10/CLN-logo_565x100.jpg
Clayton Sinyai
2016-10-29 15:36:49
2016-11-15 19:50:02
New Cardinal has Keen Interest in Worker Justice
When the US Catholic Bishops invoke the rich history of Catholic…
http://catholiclabor.org/wp-content/uploads/2015/10/CLN-logo_565x100.jpg
0
0
Clayton Sinyai
http://catholiclabor.org/wp-content/uploads/2015/10/CLN-logo_565x100.jpg
Clayton Sinyai
2016-08-24 17:03:04
2016-10-29 15:45:07
Report: At Least 500 Catholic Institutions Employ Union Labor
The horrible Rana Plaza tragedy in Bangladesh threw a spotlight…
http://catholiclabor.org/wp-content/uploads/2015/10/CLN-logo_565x100.jpg
0
0
Clayton Sinyai
http://catholiclabor.org/wp-content/uploads/2015/10/CLN-logo_565x100.jpg
Clayton Sinyai
2016-10-31 17:06:38
2016-11-15 19:47:04
Catholic activists target Macy's, Kohl's on sweatshop garments