The Catholic Labor Network is a place for Catholics — lay, religious and clergy — who find inspiration in Catholic Social Teaching on labor and work.
On this site we come together to exchange information about the Church and social justice and to support working people in their struggles. We promote the cause of workers and Catholic social teaching in our labor unions, parishes and other organizations.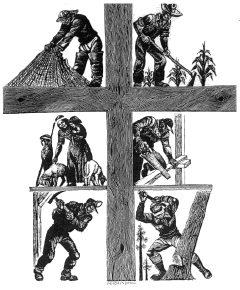 This March marked the fifth anniversary of Pope Francis' 2013 election. The Holy Father has won the respect and affection of Catholics and non-Catholics alike with his message of love, his humble example, and not least, his advocacy for social justice. Pope Francis has inspired our Church to recommit ourselves to the promise of the Gospel and the premises of Catholic Social Teaching.
In America this anniversary provided the occasion for a remarkable event at Seton Hall University, in which Cardinal Joseph Tobin and AFL-CIO President Rich Trumka (as well as NJ Governor Phil Murphy) reflected on the Francis papacy at five years. Yet why should it be remarkable? Read more
http://catholiclabor.org/wp-content/uploads/2015/10/CLN-logo_565x100.jpg
0
0
Clayton Sinyai
http://catholiclabor.org/wp-content/uploads/2015/10/CLN-logo_565x100.jpg
Clayton Sinyai
2018-04-01 16:16:17
2018-04-01 17:38:37
Cardinal Tobin, President Trumka Reflect on Five Years of Pope Francis
The Catholic Church and the U.S. labor movement share similar…
http://catholiclabor.org/wp-content/uploads/2015/10/CLN-logo_565x100.jpg
0
0
Clayton Sinyai
http://catholiclabor.org/wp-content/uploads/2015/10/CLN-logo_565x100.jpg
Clayton Sinyai
2018-01-07 18:29:11
2018-01-30 20:41:46
SHARED VALUES: A Report on AFL-CIO and Catholic Conference Activity in the State Legislatures
Bishops in the US and Mexico have come together to issue a remarkable…
http://catholiclabor.org/wp-content/uploads/2015/10/CLN-logo_565x100.jpg
0
0
Clayton Sinyai
http://catholiclabor.org/wp-content/uploads/2015/10/CLN-logo_565x100.jpg
Clayton Sinyai
2017-11-30 18:14:37
2018-01-15 12:50:16
American and Mexican Bishops offer Joint Statement on Renegotiating NAFTA