Workers ask participants to boycott hotel until they are returned to work
For decades these workers, from housekeepers to banquet servers, had made the Sheraton Columbia the premier venue for weddings, meetings and conferences in Maryland's Howard County – that is, until a new owner purchased the hotel and decided to throw them out like yesterday's rubbish. Now the workers are fighting for their jobs, and asking the publi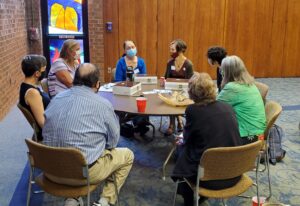 c not to patronize the renamed "Merriweather Lakehouse Hotel" until they get their jobs back.
Earlier this month, the Catholic Labor Network joined with community organization PATH (People Acting Together in Howard) to host a "listening session" where local clergy and faith activists could hear the story from the workers themselves.
During the meeting, clergy and parish social ministry leaders listened intently to the testimony of three workers who were seeking to return to their jobs. Angela Carrillo (pictured, in blue), a parishioner from nearby St John the Evangelist who had worked at the hotel for more than 20 years before the pandemic interrupted her career, was at a loss to understand why the new owner was refusing to rehire experienced employees. But she found some comfort learning that Marge Trenkle from the St John the Evangelist Social Ministry Team was listening closely to her testimony and bringing her story back to the parish.
This could not have happened in Baltimore, for instance, because the union and an alliance of community organizations – including the Catholic Labor Network – successfully pressed for a "right to recall" ordinance. Under the ordinance, city hotels that reopened after the pandemic were required to offer jobs to their laid-off employees before hiring replacements. But Howard County has no such law.
Fr. Ty Hullinger of Baltimore's St Anthony of Padua Church observed,
I was deeply affected by something that one of the workers, Mr. Ty Hughes, shared at our table. As he talked about how the workers were finding their voices and building power through the boycott, he also described some of the suffering and loss that the workers have gone through, including 'the loyalty that was stolen from the employees.' When he shared this, it reminded me of when Pope Francis uses that same exact language of 'robbery' to describe the effects of unjust economies on persons and communities in The Joy of the Gospel. Here workers are being robbed of their loyalty. To know that this company has used the pandemic as a ruse to lockout workers with 5, 10, 15 years and more of experience that the hotel is unjust, immoral and it causes tremendous pain and suffering. It is also like stealing their loyalty and so much more. But the power, voice and solidarity that workers are building is what gives this boycott and movement hope. Hope that they will be given their jobs back, and that this same hope will help build power and support for workers in other places who have also lost their jobs when unjust employers use the pandemic to do the unthinkable.
https://catholiclabor.org/wp-content/uploads/2015/10/CLN-logo_565x100.jpg
0
0
Clayton Sinyai
https://catholiclabor.org/wp-content/uploads/2015/10/CLN-logo_565x100.jpg
Clayton Sinyai
2021-10-25 14:44:05
2021-12-22 10:07:37
Catholic Labor Network hosts "Listening Session" for Displaced Hotel Workers