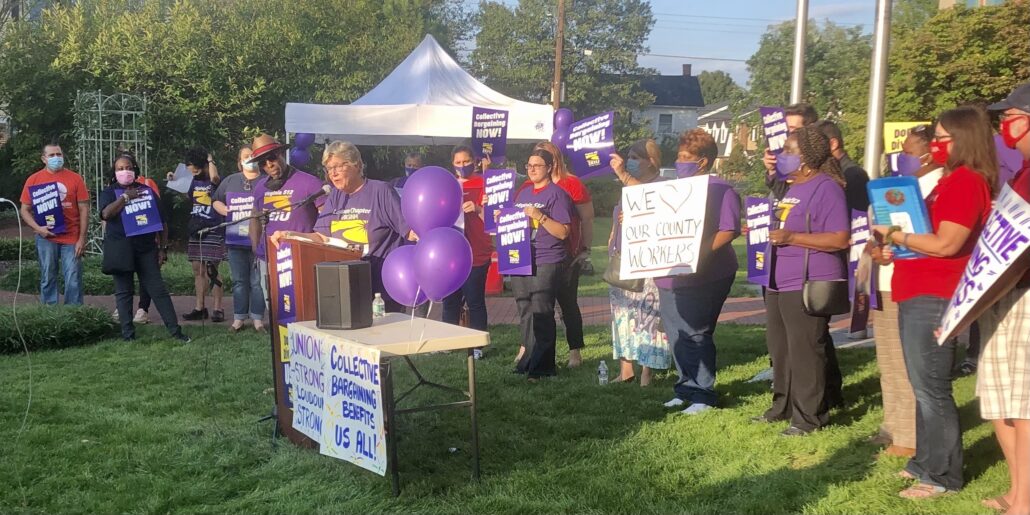 The right of workers to organize and bargain collectively has been fundamental to Catholic Social Teaching since Pope Leo XIII issued his Encyclical Rerum Novarum in 1891. But in Virginia, public employees have long lacked that right. The Catholic Labor Network is supporting workers in Virginia's Fairfax and Loudoun Counties who are fighting to change that.
Workers in both counties who have organized with the Service Employees International Union (SEIU) have recently held rallies calling on these county boards to pass an ordinance permitting collective bargaining. This would have been impossible until recently: in 2019, the state legislature overturned a long-established law forbidding cities and counties from bargaining with unions representing their employees. But that was just the first step – now the employees need to persuade the county boards and city councils to take that step.
Arlington County and the City of Alexandria have done this; now, workers in Loudoun and Fairfax are fighting for these same rights. For county workers at these rallies, pay is only one of many issues that brought them out. For many workers, dignity at work, staffing levels, and a voice in county services are equally important. Loudoun County psychiatric nurse Patti Nelson (pictured) talked about taking home less pay, working longer hours, and having less staff. She said for years she would take home work without overtime and little appreciation from management.
For Nelson, collective bargaining would give workers a voice in how Loudoun County delivers services, saying:
"This has been a long time coming and now we have a board who shares our values for healthy families, and good services, and increasing our staffing rate so that we can provide the work that we are called to provide for the least among us, and every other citizen of Loudoun County."
Based on the response of county board members, the workers are optimistic. They expect to see an ordinance passed sometime next month.
https://catholiclabor.org/wp-content/uploads/2015/10/CLN-logo_565x100.jpg
0
0
Clayton Sinyai
https://catholiclabor.org/wp-content/uploads/2015/10/CLN-logo_565x100.jpg
Clayton Sinyai
2021-10-27 16:05:57
2021-10-27 16:16:03
County Employees in Virginia Fight for the Right to Organize