On Saturday, April 2 the Catholic Labor Network joined the Coalition of Immokalee Workers (CIW) and hundreds of their community supporters in a march through wealthy Palm Beach, Florida. The farmworker organization was calling on Wendy's board chair Nelson Peltz to enroll the fast-food chain in its Fair Food Program.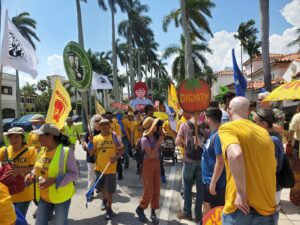 The CIW is a farm workers' organization based in Immokalee, Florida. Immokalee tomatoes end up on many fast-food hamburgers and sandwiches, and the CIW has successfully persuaded industry giants like McDonald's, Burger King and Taco Bell to source their tomatoes to growers committed to a fair labor code of conduct as part of the Fair Food Program. Wendy's remains a holdout.
Focusing attention on recent cases of human trafficking in U.S. agriculture, CIW leaders challenged Wendy's: how can you guarantee your food isn't the product of forced labor? As CIW leader Nely Rodriguez argued,
It is appalling that Wendy's has refused to commit the fast-food chain to the Fair Food Program's best-in-class protections for nearly a decade, and especially now, given the horrific rise of modern slavery cases in North American agriculture. On April 2, we marched with a simple question for Wendy's Board Chair Nelson Peltz: Can Wendy's guarantee there is no slavery in its supply chain?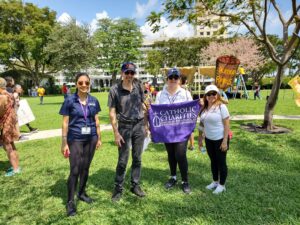 The sad fact is that they can't. U.S. agriculture depends on the backbreaking labor of immigrant workers. In the absence of a union or a worker-driven certification effort like CIW's Fair Food Program, labor abuses – ranging from unpaid wages to actual violence – proliferate.
Student organizations, faith groups, community organizations and workers' centers turned out hundreds of sympathizers to march in solidarity with the CIW members. Beyond the Catholic Labor Network, the Catholic community was represented by a delegation from Palm Beach Catholic Charities led by Sandra Perez, and by Archbishop Thomas Wenski of Miami, who blessed the workers after the march.
"Farmworkers are essential workers," Wenski told Channel 5 after the march. "They work hard, they work in dangerous conditions, they work in inclement weather. They give an honest day's work, they want an honest day's pay, and they want to be treated with respect and dignity."
The workers are calling upon the community to boycott Wendy's until the chain agrees to participate in the Fair Food Program.
https://catholiclabor.org/wp-content/uploads/2015/10/CLN-logo_565x100.jpg
0
0
Clayton Sinyai
https://catholiclabor.org/wp-content/uploads/2015/10/CLN-logo_565x100.jpg
Clayton Sinyai
2022-04-07 15:16:17
2022-04-07 15:22:19
Catholic Labor Network Marches with Immokalee Workers in Palm Beach