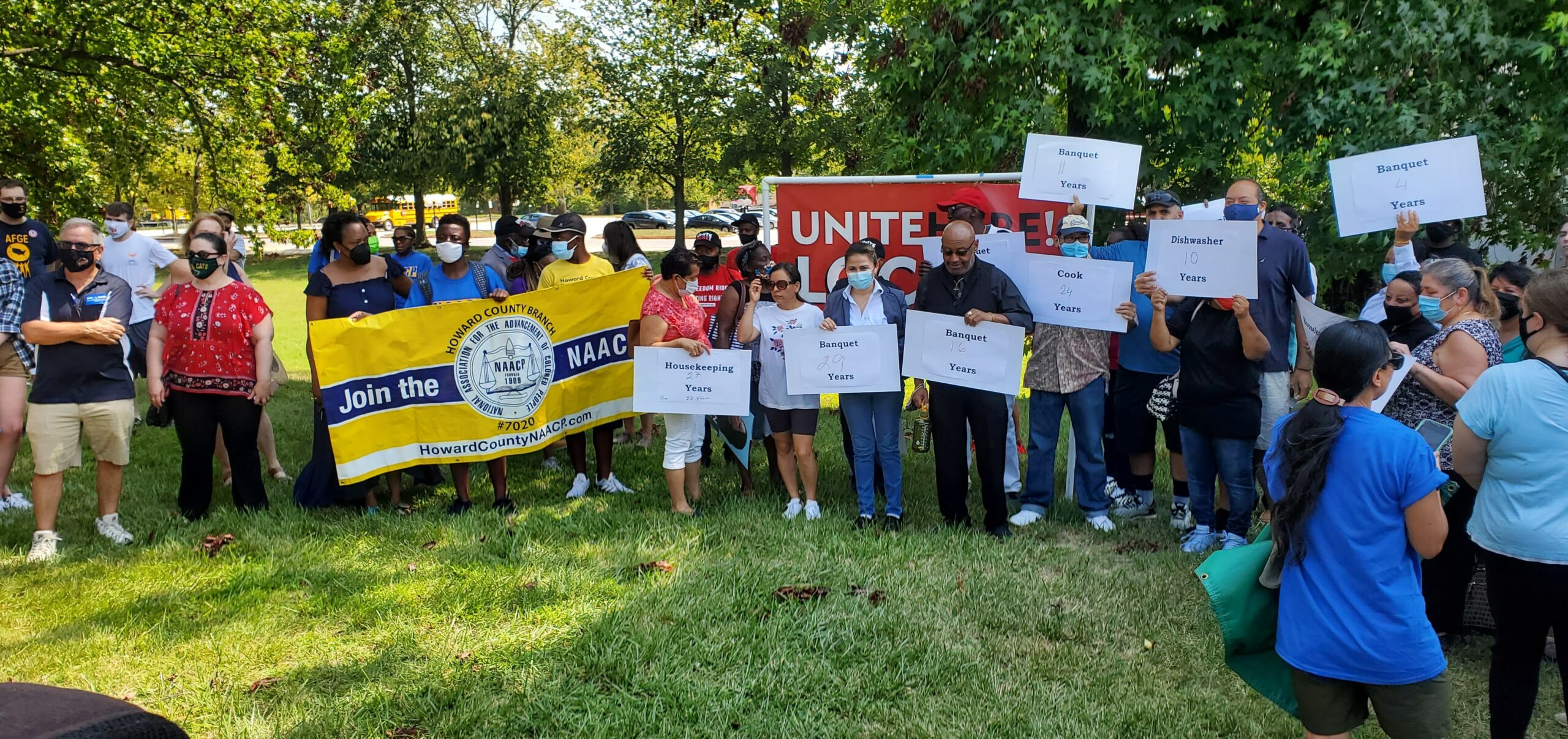 Sandra Mendoza (center), a parishioner at St John the Evangelist, worked at the hotel for 29 years before the pandemic temporarily closed the facility. When it reopens she hopes to resume her work, but but the owner is seeking to replace the entire workforce.
With the pandemic receding, most hotels are resuming operations and beginning to call back their idled employees. Many report struggling to find workers. But one hotel is promising NOT to call back its 80 longtime employees: the Merriweather Lake House Hotel in Columbia, Maryland. Last week the Catholic Labor Network joined the workers and a host of faith and community organizations in calling on the owner, Costello Construction, to recall the long-serving staff to their jobs.
Before the pandemic the hotel was known as the Sheraton Columbia, and its employees – some of whom had worked there for decades – were represented by UNITE HERE Local 7. Costello closed and renovated the hotel during the pandemic and apparently hopes to reopen the hotel under its new name with a new, non-union workforce.
Catholic Social Teaching regards a properly formed business enterprise as a partnership between capital and labor. The labor of these hotel workers created the hotel's value in the first place, and they have already suffered great economic hardship during the pandemic. They are depending on a return to work for their livelihood and economic future, and deserve to be recalled to service.
Please keep these workers in your prayers and stay tuned for opportunities to support their campaign for just employment.
https://catholiclabor.org/wp-content/uploads/2015/10/CLN-logo_565x100.jpg
0
0
Clayton Sinyai
https://catholiclabor.org/wp-content/uploads/2015/10/CLN-logo_565x100.jpg
Clayton Sinyai
2021-08-18 13:39:56
2021-08-18 13:43:17
Columbia, MD Hotel Workers Fighting to Save Their Jobs