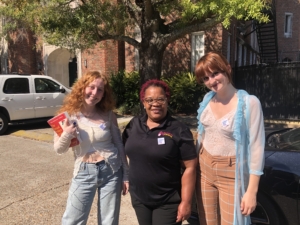 The Catholic Labor Network is pleased to report that food service workers at Loyola University in New Orleans won union representation with UNITE HERE Local 23 on April 28. After a year-long campaign closely monitored by the Catholic Labor Network, workers now will have an opportunity to negotiate a contract with Sodexo, the French multinational that operates the cafeteria for the school.
The workers benefitted from extensive support from Loyola students. Readers of this newsletter may remember that in November 2022 the Catholic Labor Network participated in a "teach-in" attended by many students and workers – an event that reflected on Catholic Social Teaching on labor unions and worker justice and made the case why these workers deserved the protection of a union contract.
"Winning means I've done something right," explained Lead Food Service Worker Samantha Henry (pictured, with student supporters). "It means greater respect and not worrying about falling short on money. My coworkers and I are already feeling more motivated to serve the students than ever before."
The campaign at Loyola New Orleans was part of a national effort by Sodexo employees to improve wages and benefits in an industry known for low wages. Sodexo operates institutional cafeterias in corporate offices, government buildings, and college campuses across the United States. So far in 2022-2023, some 2,300 Sodexo workers have joined UNITE HERE, a union of workers in hotels, casinos and food service.
The win at Loyola, and an earlier one at a cafeteria in the headquarters of the Maryknoll Sisters in New York, carry a special resonance for the Catholic Labor Network. Catholic Social Teaching has endorsed the right of workers to organize in unions since 1891, when Pope Leo XIII issued his Encyclical Rerum Novarum – a teaching that has been repeatedly affirmed by Leo's successors. Catholic institutions should insist that contractors serving them honor that teaching by respecting workers' right to join unions.
Please pray that the workers at Loyola secure a just contract in their negotiations.
https://catholiclabor.org/wp-content/uploads/2015/10/CLN-logo_565x100.jpg
0
0
Clayton Sinyai
https://catholiclabor.org/wp-content/uploads/2015/10/CLN-logo_565x100.jpg
Clayton Sinyai
2023-05-13 15:03:58
2023-08-19 14:49:23
Loyola Food Service Workers Win Union