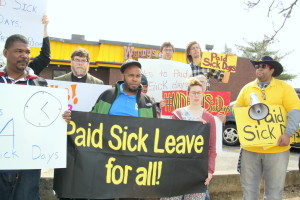 While many of us see paid sick leave as a standard employment benefit, a surprising number of low-paid service workers have no such benefit (a number that likely includes the cooks and waitstaff who served you the last time you ate out – think about that for a moment). But no one, whatever their job, should be working when they or a child are seriously ill. The Maryland AFL-CIO, the Maryland Catholic Conference, and dozens of other labor and faith-based organizations are working to address this problem with an "earned sick leave" law.
Activists have been pushing for a sick leave law in Maryland for five years. The Maryland Catholic Conference made sick leave law a legislative priority this year, and area Catholic activists were a visible presence in Annapolis pressing for the bill. Both the House and Senate have passed bills requiring  employers with more than 15 employees to provide limited paid sick leave to their workers (up to one week per year). Maryland Governor Larry Hogan wants to limit coverage to firms with more than 50 employees, and has threatened to veto the current legislation if it reaches his desk.
Similar efforts to promote paid sick day laws have been seen in many cities and states across the cross the country. Have you been part of one? Tell us about it in the comment section!
https://catholiclabor.org/wp-content/uploads/2015/10/CLN-logo_565x100.jpg
0
0
Clayton Sinyai
https://catholiclabor.org/wp-content/uploads/2015/10/CLN-logo_565x100.jpg
Clayton Sinyai
2017-03-29 20:51:50
2017-05-30 20:07:57
Maryland Catholic Conference, Maryland AFL-CIO unite to fight for paid sick leave