On Tuesday, 58 airline food service workers and their supporters were arrested for blocking the entrance to the American Airlines headquarters at their Dallas-Fort Worth area hub, calling for a living wage. American Airlines has subcontracted food preparation there to LSG Sky Chefs, which pays entry-level workers less than $10 per hour – that's an annual salary of less than $20,000 for a full-time worker, below the poverty level for a parent with two children. Meanwhile, American Airlines is running billion-dollar surpluses.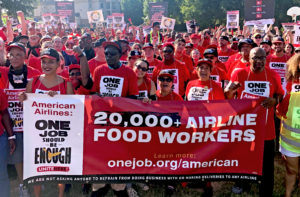 Nia Winston, one of the union leaders, told the crowd, "Our goal is to escape poverty, not to disrupt travel." The workers have voted to strike but under the law must be "released" by the federal government before walking out.
As a new report by the union demonstrates, the problem isn't just wages. Although employers are required to offer health insurance coverage under the Affordable Care Act, Sky Chefs has set the employee premium contribution so high that most workers decline coverage, and only a handful choose the family coverage.
Some 20,000 workers in over 30 airports in the country are employed in airline food service, and this is a national campaign. It will be coming soon to an airport near you. If your organization would like to support these workers in their effort to turn poverty-wage jobs into living wage jobs, contact [email protected].
https://catholiclabor.org/wp-content/uploads/2015/10/CLN-logo_565x100.jpg
0
0
Clayton Sinyai
https://catholiclabor.org/wp-content/uploads/2015/10/CLN-logo_565x100.jpg
Clayton Sinyai
2019-08-17 14:32:46
2019-11-29 13:08:27
Airline Food Service Workers Sit-in at American Airlines, Demand Living Wage