In much of the United States, hotel and food service work is not just grueling but poorly paid. But thanks to decades of worker organizing through Culinary Workers Union Local 266 (an affiliate of UNITE HERE) tens of thousands of workers in hotels on the famous Strip and downtown enjoy family-supporting wages and benefits. The less fortunate workers employed in the ten Station casinos scattered around the city and suburbs are determined to secure the same for themselves and their families, and the Church is Las Vegas has been accompanying them.
In 2016, when Boulder Station Casino managers pressured employees to vote "no" on union membership, UNITE HERE's Father Clete Kiley and a delegation of "labor priests" visited the workers to hear their story and express solidarity. The workers voted 2-1 to form a union with Culinary Workers. Today workers at four of the station casinos have voted for the union – although management is refusing to recognize the election results at two of them and using endless legal appeals to delay the process further.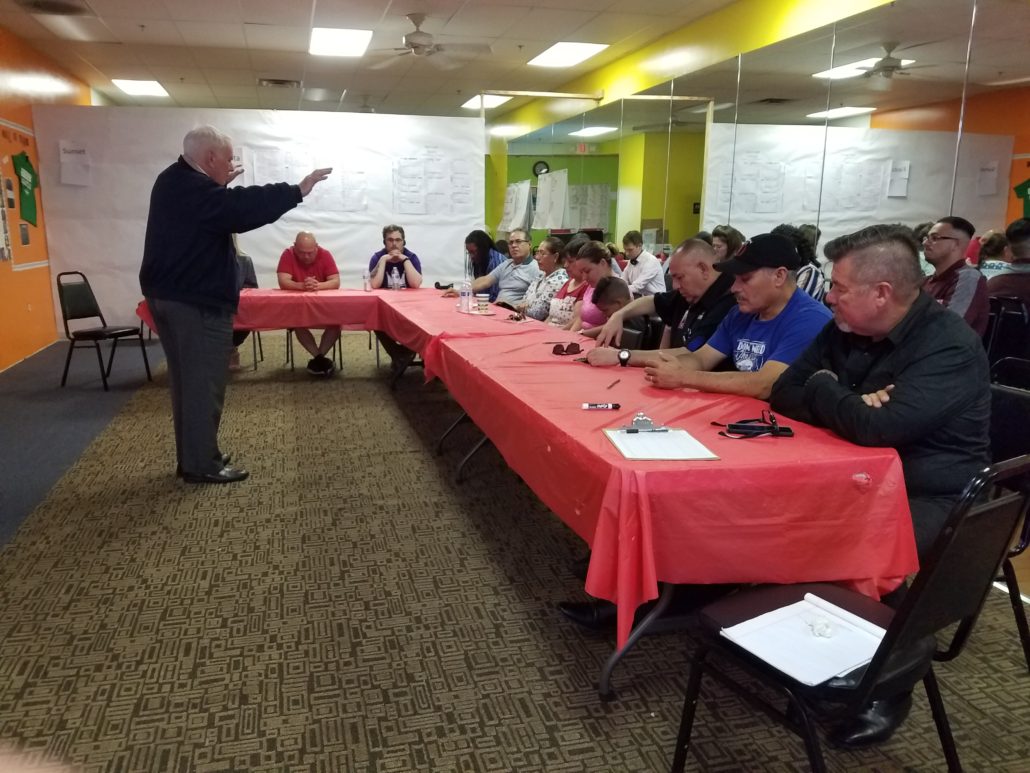 While visiting Las Vegas for the Church-Labor Partnership Project (CLPP), I was able to meet with workers discussing organizing strategy at two additional Station Casinos. The workers told me that high premiums made the employer-offered health care unaffordable, relaying stories of ill family members or children who went without care. They also said that management was laying off food service employees, then expecting the survivors to pick up the work of their colleagues with no increase in pay.
Far larger than a typical local union, Local 226 (and its sister bartenders' unit, Local 155) is a critical player both in the industry and the community. In a practice more familiar in the construction unions, Local 226 and its signatory employers operate a Culinary Academy where those interested in a career in hospitality can take preparatory classes – and current members who want to pursue a better-paying job in the hotels can get training for a move up. The center trains nearly 1,000 per year.
On May 8, the Diocese of Las Vegas hosted CLUE NV (Clergy and Laity United for Economic Justice – NV), an interfaith group of clergy supporting worker justice. Dave Love, who does faith outreach for Local 226, helped build strong turnout for the event, at which some Station Casino workers shared their stories with the assembled religious leaders.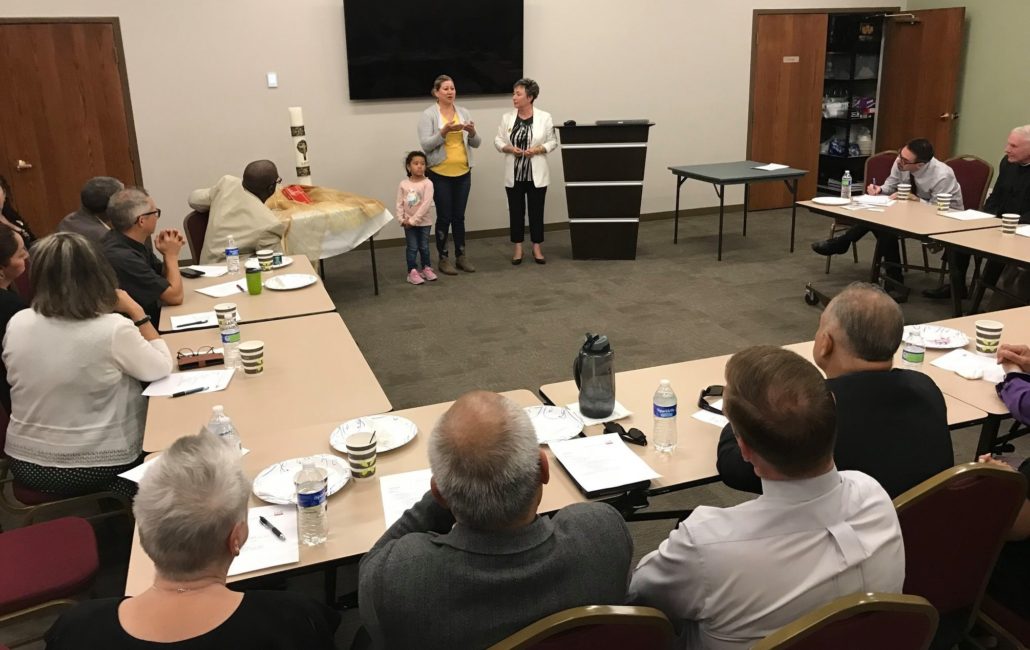 Deacon Tim O'Callaghan, Social Action Ministry Director for the Diocese of Las Vegas, was very generous with his time during my visit, and connected me with both the impressive Diocesan Catholic Charities facility and a young Las Vegas workers' center, Arriba. Along with running a homeless shelter and SROs, Catholic Charities works with both the homeless and with refugees in order to teach them work skills and habits and place them in jobs. (It didn't surprise me to learn that they send a fair number of students to the Culinary Academy.) Arriba organizes among the hundreds of day laborers in the Las Vegas area, who too often fall victim of wage theft by unscrupulous employers, and is under review for a possible CCHD grant.
I rounded out my time in Las Vegas with a visit to the Southern Nevada AFL-CIO, whose leaders expressed enthusiasm for the CLPP and are looking forward to new initiatives in the area.
Please pray for the Station Casino workers and for the Church in Las Vegas!
https://catholiclabor.org/wp-content/uploads/2015/10/CLN-logo_565x100.jpg
0
0
Clayton Sinyai
https://catholiclabor.org/wp-content/uploads/2015/10/CLN-logo_565x100.jpg
Clayton Sinyai
2019-05-15 13:42:48
2019-08-17 14:41:19
Church and Labor in Las Vegas