(courtesy of Jeffry Korgen)
I used to think the word "worker" in "Catholic Worker Movement" referred to the Works of Mercy accomplished by its members. But a new encounter with the thought of Dorothy Day, Servant of God, and Peter Maurin, through staffing the Archdiocese of New York's canonization Inquiry into her life, taught me that the Movement has a historic, multi-layered relationship with low-wage workers and their struggles.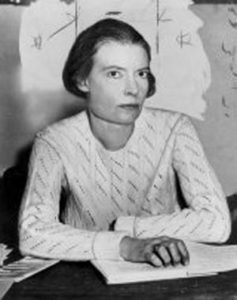 The Catholic Worker emerged in the 1930's against a backdrop of worker movements. The Catholic Worker name itself is a play on the communist Daily Worker newspaper. Like Pope Leo XIII, Dorothy Day believed the Church needed to offer an alternative to workers caught between accepting exploitation in the workplace and adopting atheistic communism. Day lifted up the Gospel and Church teaching against the abuses of the times, but in 1949, she targeted the Church itself.
In January of that year, the Archdiocese of New York rejected gravediggers' demands for a significant pay increase and a five-day workweek. A bitter strike ensued. Cardinal Spellman called the gravediggers' union communist-dominated and brought in seminarians (!) as scabs to bury the dead. Dorothy Day spoke out in favor of a living wage for the gravediggers and penned editorials in support of the strikers. She wrote Cardinal Spellman personally, and asked him to "meet their demands; be their servant as Christ was the servant of his disciples, washing their feet."
The strike was settled two months later, after an appeal from the gravediggers' wives, a change in union representation, and a fractional increase in the archdiocesan offer. The six-day work week stayed. But Dorothy Day had made a point that the Church as an employer is not exempt from its own teaching—an argument which still arises, on the one hand to castigate Catholic universities for miserly payment of adjuncts, on the other to congratulate Society of St. Vincent de Paul stores for making a new commitment to pay a living wage.
But the Catholic Worker commitment to low wage workers goes farther than simply supporting unions. Dorothy Day, influenced by Peter Maurin, went a step further—advocating for worker owned businesses and farm cooperatives through an economic philosophy called distributism. Distributism salutes capitalism by insisting that its enormous ability to create wealth go to work to enrich the lives of ordinary people—not just the rich—through worker-owned enterprises.
As the Church sorts through questions of Dorothy Day's sanctity, we would all do well to embrace the holiness of her many efforts on behalf of and with low-wage workers.
Jeffry Korgen is assisting the Archdiocese of New York prepare evidence for the cause of Day's canonization. He can be reached at [email protected].
For more information about efforts to canonize Dorothy Day, visit the Dorothy Day Guild website
https://catholiclabor.org/wp-content/uploads/2015/10/CLN-logo_565x100.jpg
0
0
Clayton Sinyai
https://catholiclabor.org/wp-content/uploads/2015/10/CLN-logo_565x100.jpg
Clayton Sinyai
2016-06-29 22:01:30
2016-08-28 10:57:14
Dorothy Day, Servant of God and Worker Justice