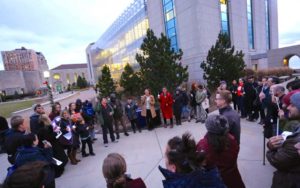 We are pleased to report that Loyola University Chicago has established a Just Employment Task Force to examine university labor and employment practices in light of Catholic Social Teaching! Loyola has witnessed a number of labor disputes in recent years. Food service workers there, who belong to UNITE HERE and are employed by a university contractor, tangled with their employer over health benefits. Loyola's adjunct faculty (right) voted to join the SEIU and are in the process of negotiating their first contract. And last month graduate teaching assistants voted to join the SEIU as well.
Too often, employers and administrators become defensive when workers organize and turn to professional union-busters for advice. Loyola, it seems, is instead consulting Catholic social doctrine to determine how to move forward. Jo Ann Rooney, Loyola's new President, said:
As a Jesuit, Catholic institution, our mission and current strategic plan require us to seek actionable ways to live out the call to build a more just, humane, and sustainable world. This task force will be doing exactly that. I have asked the group to help identify opportunities for Loyola to demonstrate and deepen its commitment to a more fair, competitive, and socially just workplace. At the end of the semester, they will produce a report and set of recommendations for consideration.
It's a big step whenever we see a Catholic hospital, university or parish take our Catholic values out of the theology seminar, mission office, or CCD class, and use them to examine its business practices. Georgetown's landmark Just Employment Policy is the product of years of reflection and dialogue on just these issues. It's a positive sign that President Mulloy selected Sociologist Kathleen Maas Wiegert as Faculty Representative on the Task Force: she's the author of Living the Catholic Social Tradition, a longtime Georgetown faculty member with intimate knowledge of the Georgetown policy, and – ahem – a Catholic Labor Network member.
We'll be looking forward to the Task Force Report!
https://catholiclabor.org/wp-content/uploads/2015/10/CLN-logo_565x100.jpg
0
0
Clayton Sinyai
https://catholiclabor.org/wp-content/uploads/2015/10/CLN-logo_565x100.jpg
Clayton Sinyai
2017-03-14 14:43:07
2017-05-13 16:31:34
Loyola University Chicago Appoints "Just Employment Task Force"