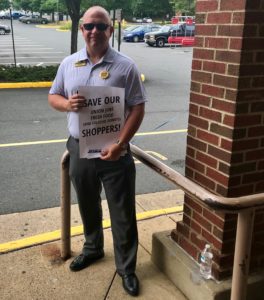 In the Baltimore-Washington area there are three union supermarket chains: Safeway, Giant, and Shoppers Food. There may soon be two, as Shoppers' corporate parent is rapidly closing locations with little public explanation.
The grocery workers, who are members of United Food and Commercial Workers (UFCW) Locals 400 and 27, say the parent company, United Natural Foods Inc, (UNFI), is closing the profitable stores to satisfy private equity investors. They want the company to consider more than their wealthy investors, and have conducted informational picketing to alert the community.
Prior to its sale to UNFI, Shoppers had been known as a good company to work for, with excellent benefits and wages negotiated by UFCW over the years.  The roughly 3000 Shoppers workers have an average seniority of 18 years and their long tenures in the same store means they know their customers personally. One UFCW member in DC expressed uncertainty about the future and the ability to find a secure job with good benefits in a grocery industry that is under pressure from anti-union retailers like Wal-Mart to drive down wages. She said many workers live paycheck to paycheck and losing these union jobs will drive many into financial distress trying to make ends meet. Union activists said Shoppers workers could go from a union job offering $18 per hour with vacation, extra Sunday pay, and excellent healthcare to a nonunion one offering $12 per hour with little or no benefits.  Another member from a store in Maryland was worried about losing the healthcare benefits because her daughter depends on the vision benefits negotiated in her union contract.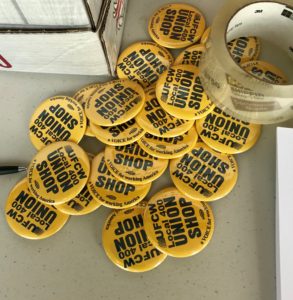 The UFCW members are frustrated because the parent company has left them in the dark about the store closures. UFCW is demanding the UNFI take measures to facilitate handing off the Shoppers locations to other union employers such as Giant or Safeway in order to preserve good jobs and avoid food deserts in poor communities.
Losing union jobs like those at Shoppers has a devastating impact on workers and consumers in our communities. Many of the Shoppers locations facing closure are serving communities bereft of grocery stores and their closure drives consumers out of their community to shop. The decent wages and benefits offer stability and dignity in many communities that are often economically insecure.
As Catholics, we must stand up for good union jobs that uphold the dignity of work and give members of our community economic security. We need to stand against the erosion of decent jobs in favor of an economy that favors Wall Street and wealthy investors instead of our communities.
https://catholiclabor.org/wp-content/uploads/2015/10/CLN-logo_565x100.jpg
0
0
Clayton Sinyai
https://catholiclabor.org/wp-content/uploads/2015/10/CLN-logo_565x100.jpg
Clayton Sinyai
2019-06-30 12:17:43
2019-06-30 13:43:23
Union Grocery Workers Picket to Protest DC Metro Store Closures