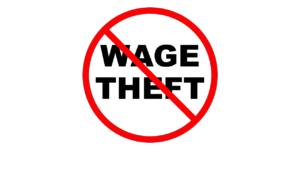 The Minnesota State legislature is on track to make wage theft a felony in the North Star state, thanks to efforts by unions, community groups and support from the Minnesota State Catholic Conference. Workday Minnesota reports that
The Jobs, Economic Development, and Energy omnibus budget bill will include provisions to make wage theft a felony, penalizing employers who retaliate against employees who report it. The bill also provides funding and investigative power so that MN Attorney General Keith Ellison and the Department of Labor can enforce the new law.
Wage theft is surprisingly prevalent in the United States. In some cases it can be as blunt as refusal to pay for work performed or having a paycheck returned "insufficient funds." In other cases, it involves harder-to-detect schemes: demanding that employees do extra work after they have clocked out, paying at straight time for overtime work, or paying an employee as an independent contractor so that the employer can duck required social security contributions.
Hats off to the Minnesota AFL-CIO and CTUL (Centro de Trabajadores Unidos en la Lucha, a CCHD-supported workers' center) for their leadership on this issue – as well as to the Minnesota Catholic Conference for supportive testimony on the issue.
https://catholiclabor.org/wp-content/uploads/2015/10/CLN-logo_565x100.jpg
0
0
Clayton Sinyai
https://catholiclabor.org/wp-content/uploads/2015/10/CLN-logo_565x100.jpg
Clayton Sinyai
2019-05-29 11:13:41
2019-05-29 11:25:59
Win on Wage Theft in Minnesota