The Catholic Labor Network is proud to announce the launch of a new initiative: the Church-Labor Partnership Project (CLPP)!
For nearly a quarter-century, the members of the Catholic Labor Network have connected clergy, religious and lay activists in our communities with workers organizing for social justice through unions and workers' centers. Now, with a generous grant from the Catholic Campaign for Human Development (CCHD), we will be extending this work nationwide.
The CLPP initiative was unveiled at the Catholic Labor Network's annual meeting on Feb.2. At the meeting, held in conjunction with the USCCB Catholic Social Ministry Gathering, bakery workers, airline food service workers and farmworkers addressed the group and appealed for solidarity (more on this next week).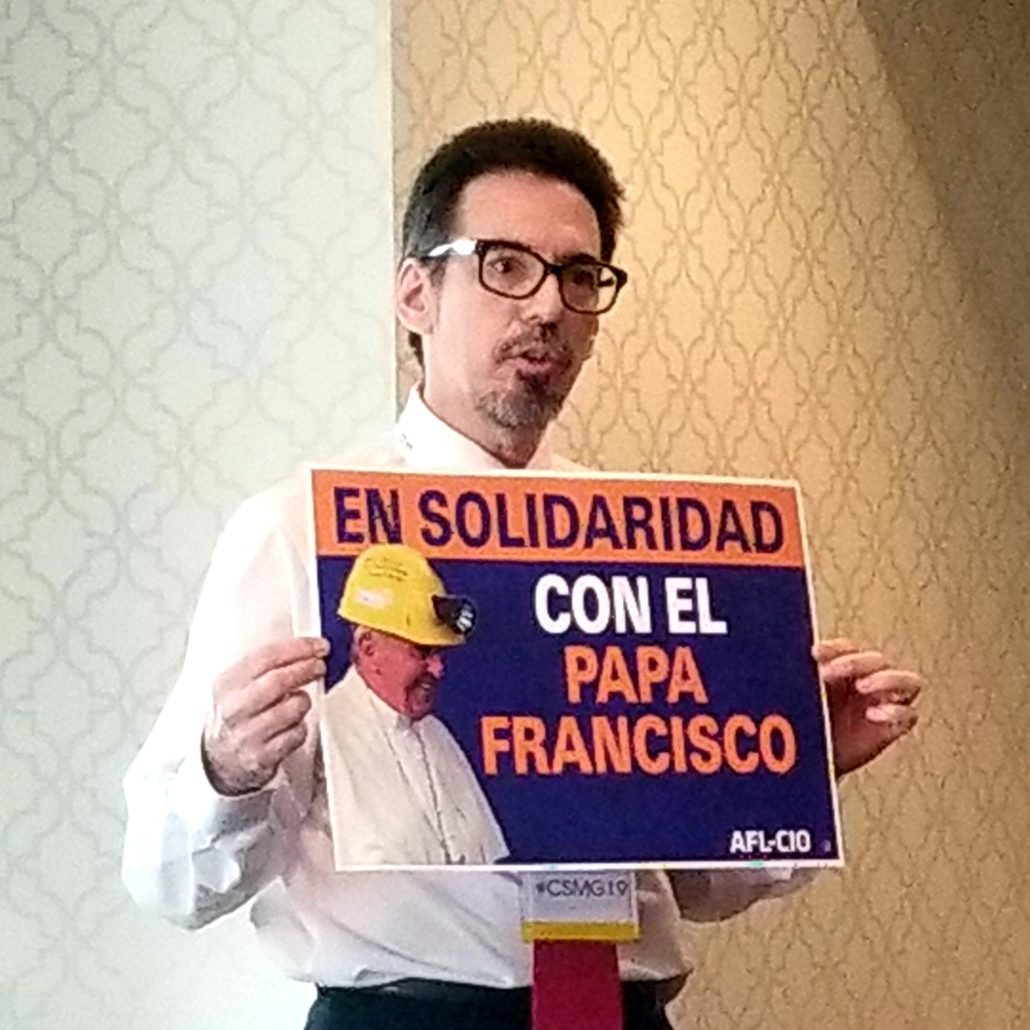 Why now? The Church and labor movement have a long history of working together to promote worker justice, but the witness of Pope Francis has reminded many labor activists just how much we share as voices of solidarity in a society that too often leaves behind the poor, the unemployed, the immigrant. Together we "have to say "thou shalt not" to an economy of exclusion and inequality. Such an economy kills [Evangelii Gaudium, 53]."
The Church-Labor Partnership Project will help…
Amplify the voices of low-income workers seeking to organize for living wage jobs, and connect them with Parish and Diocesan social ministry groups
Foster alliances between labor unions and Church organizations in defense of immigrant workers
Increase collaboration between Catholic Charities service providers and "high-road" union employers, often through apprenticeship programs
Promote worker-friendly and family-friendly public policies, such as raising the minimum wage and securing paid family and sick leave for all workers
And much more! Church organizations partnering with us in this effort include the Archdioceses of Chicago, Newark and New Orleans, and the Dioceses of San Diego, Owensboro and Lexington, as well as Catholic Charities USA, the Roundtable Association of Catholic Diocesan Social Action Directors, and the National Federation of Priests' Councils. Labor partners include the AFL-CIO, UNITE HERE, SEIU, LIUNA, BCTGM and the Coalition of Immokalee Workers (CIW). The effort will be hosted at Georgetown University's Kalmanovitz Initiative for Labor and the Working Poor.
You can expect to read about CLPP activities regularly in the Catholic Labor Network newsletter and on our website. Want to talk about how you can get involved? Contact [email protected].
https://catholiclabor.org/wp-content/uploads/2015/10/CLN-logo_565x100.jpg
0
0
Clayton Sinyai
https://catholiclabor.org/wp-content/uploads/2015/10/CLN-logo_565x100.jpg
Clayton Sinyai
2019-02-20 15:26:27
2019-08-31 14:59:28
Catholic Labor Network announces Church-Labor Partnership Project (CLPP)